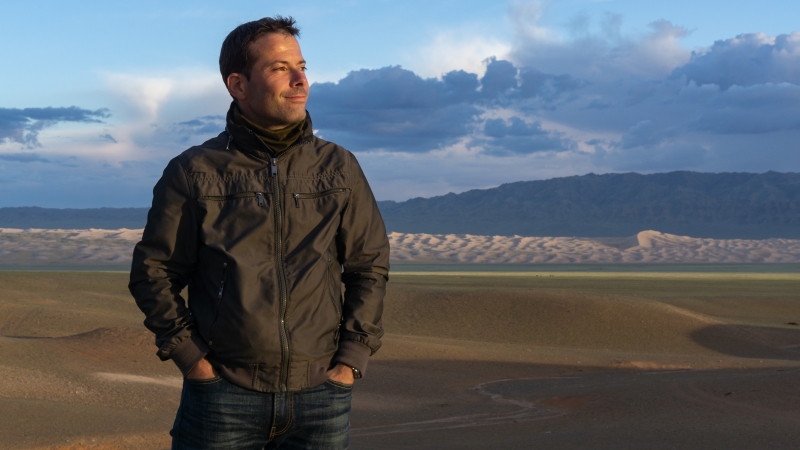 Enguerran
Co-founder, Marketing & Sales, Explorer, Photographer
Born in France during the mid-80ies, I started to get interested in travel and countries around the world from a very young age. I do have a twin sister with whom I share this passion closely. Both my parents were flight attendants at the largest airliner company of the country: Air France since the beginning of the 70ies. Being told so many interesting stories about Asia, Africa, North America, I was naturally drawn to travel the world when given the chance.
My parents were also very opened to let me develop my own self around many skills like languages, and I started to learn English as early as 3 years old with a friend of the family being my teacher. Thanks to an internal program within their company, I was able to travel to various countries from the age of 14 during the Summer days. I chose Scotland, England, the USA, and then China in order to keep practicing my English skills (with trips involving half-day learning classes with local teachers), and to discover how beautiful the world was, many cultures, and interesting people to learn from.
Since that time, my thirst for knowledge and passion for travel never stopped, and I reached a point where I decided to remain long out of my own country to explore further.
I first studied Marketing and Business Administration in France, and when I finally graduated, I decided to live in China, first as a language student. I joined my twin sister in Nanjing, Jiangsu Province back in 2007, to start my degree in Mandarin Chinese. I then remained in the country for the next 2 years between the cities of Nanjing and then Shanghai. That is where I met my future wife, a Mongolian student, that would open up my world to another amazing geographical place in Central Asia: Mongolia. Fast forward to 2013, I lived and worked with her in Bulgaria first for a couple of years, before then flying to Mongolia, my final destination.
This is then from 2015 that I settled with her in Ulaanbaatar the capital city. This country has so much to offer and within the first month of my arrival here I kept being amazed by how the culture, the people, and the landscapes are resonating with me. I call this place my home, and we happily created a family with 3 beautiful boys - half Mongols half French.
I work here since 2015 in the travel industry and have successfully welcomed nearly a thousand of happy visitors to Mongolia.
I do also have a very big interest in photography and mixing together this passion with the work that I do brings me joy and fulfillment. I often use my images to inspire others to travel, or to feature Mongolia in a different way, reflecting my experience and also to expand other's knowledge about our beautiful country.
Today I am proud to introduce Gobi Mountain Lake to the world, a project that is made to inspire, create, and bring lots of beautiful emotions to travelers. Not only this, but our heart is also really focused on delivering the very best service you can find within Mongolia while respecting the land, its people, and their culture. By creating this new form of traveling through the country including a very talented and dedicated team of professionals, we are able to deliver a totally new standard to Mongolia, which I hope will bring others conscience to a different level. We can effectively travel and keep an "ECO" approach that will mix amazingly well with the infinite landscapes of Mongolia.
Thank you for taking the time to visit our website, and I hope to meet you soon in Mongolia!