GOBI MOUNTAIN LAKE ADVENTURE
A 3-WEEK EXPERIENCE AROUND THE LOCAL NOMADIC LIFESTYLE, COVERING THE MOST BEAUTIFUL AND EXTRAORDINARY LANDS FROM THE GREAT MONGOL SANDS NATIONAL PARK TO THE ANCIENT CAPITAL OF THE 13TH CENTURY'S EMPIRE.
---
Made for those you want to cover most of the greatest natural sites of Mongolia, this all in one adventure will amaze the explorers and hikers, with a multi-activity program - yoga and meditation - bringing health benefits as well as a comfortable stay at the countryside.
A luxury trip, supported by a domestic flight to enjoy untouched Nature as soon as possible, maximizing your time and delight.
You will love the idea of reaching and exploring the wild country of Western Mongolia, learning about sand dune expeditions and the Gobi ecosystem. This unique place forms a massive sand dune plateau including amazing dune rivers and Gobi lakes. The Great Mongol Sands National Park is undeniably one of the treasures of Mongolia, well worth the effort to visit.

We have done the legwork for you, creating the ultimate tour that combines the finest options and activities possible on location, featuring hiking, yoga sessions, meditation while in Nature, with places carefully selected for their beauty, and high energetic values. You shall replenish your mind, and explore a new self. Most of the days, you sleep under the comfy Ger (Mongolian yurts) with beds, but also 3 nights at a specialty created Eco Tent Camp located at the footsteps of the great sand dunes. They will be visible from your very own door, absolutely unforgettable!
HIGHLIGHTS
The authentic western nomadic lifestyle

Guided Soft Hiking & Trekking in the diverse nature

Guided Meditation & Yoga sessions in wild

Expeditions in the Great Mongol Sands National Park

Trek to Sand Dune River, a river flows beneath a gigantic sand mountains

Excursion to Great Sand Dunes Lake, a beautiful lake surrounded by dunes and mountains

Expedition to the Sand Mountain / to the luxury Tent camping for exploring the great dunes / amazing sunset, cocktail party & bonfire

Three days trek around the Rocky Mountains

Trekking to the holy lake of Khangai Mountain National Park

Four days exploration to Kharkhiraa National Park / escorted by camel caravan

A day in the Khyargas Lake / second biggest lake in the west

Uureg Lake, the beauty of the west / strictly protected area

Stargaze in the Mystery of the Sand Mountain Expeditions, home to the clearest skies on the planet

An Eco Desert Camp in the heart of the western Gobi / fully equipped luxury Eco Tent
WHEN TO GO / 2021
Limited space is available. (Please contact us for further information.)
starting from
USD 4920 per person
6 person
22 Days / 21 Nights

Price is based on low season rates, per person.
Based on 2020 rates and 2 people sharing.
Single occupancy available upon request (supplement).
WHAT IS INCLUDED?
Airport transfers to/from the hotel, 24/7

Domestic flight Ulaanbaatar to Ulaangom

Full board during the adventure: breakfast, lunch, dinner and Gourmet picnics

Katadyn - water filter for a safe drink throughout the tour

Guided meditation sessions

Morning yoga sessions

2 nights in 4* hotel in downtown of Ulaanbaatar, breakfast included

4 nights at local ger camp

3 nights at the Sand Mountain Tent camp / bonfire and cocktail party

1 night in a Kharkhorin Private Hotel

6 nights around at a local yak herding nomad family camp, under guest ger in various locations

5 nights under comfortable tents with travel showers

Outdoor equipped 4WD comfortable vans and 4WD kitchen jeep with coolers

English-speaking tour leader, meditation and yoga coach

Operation manager, drivers, and cook

Pack camels and guides for the Kharhiraa Mountain Expedition

Experience traditional Mongolian barbecue "Khorkhog"

Entrance fees for parks, museums, monasteries and the Mongolian traditional show at Tumen Ekh, as indicated in the program

Equipment for outdoors activities such as camping & meals/tables, chairs, cutlery, travel shower, XL size comfortable sleeping bag, sheets, pillow, high-quality mats, and turbo tents
WHAT IS NOT INCLUDED?
International flights

Travel insurance

Excess luggage fees on a domestic flight, it's limited to 15 kg per person (checked luggage and carry-on together)

Early check-in and late check-out

Gifts for kids and nomadic family

Tips for tour leader, driver, local guide, and trip staff

Beverages & any costs of a personal nature

including items such as laundry and souvenirs

Clothes, raingear, and footwear

Water bottles and a headlamp or flashlight

Guide gratuity (industry recommendation is 10% of trip cost)
WELCOME TO MONGOLIA, A DAY IN THE ULAANBAATAR

ACCOMMODATION: CENTRALLY LOCATED 4 STAR HOTEL
ELEVATION: 1350m
Your Mongolian adventure kicks off in the capital of Mongolia—Ulaanbaatar. With a rich Buddhist past and flourishing modern touches, Ulaanbaatar is the largest city in Mongolia and one of the fastest-growing in Asia. The culture, food, and attitude of its residents reflect this bustling spirit. Get settled in on your first day and check in to your hotel, your home for the next night.
We take you through the main square where happened major events and celebrations during the socialist era, to the doorsteps of ancient Buddhist temples and the National History museum introducing Mongolia's history from early humans to the modern era. Let's then attend a Traditional Mongolian authentic performance including folk dances, throat singing, and contortion at the Tumen Ekh Ensemble. Welcoming dinner meet and greet will see you get to know your new travel family before we put you at total ease by introducing your Mongolia tour itinerary.
Landing a few days before? No worries! Your airport pickup is included for any day before the tour and we can organize any extra nights required in Ulaanbaatar.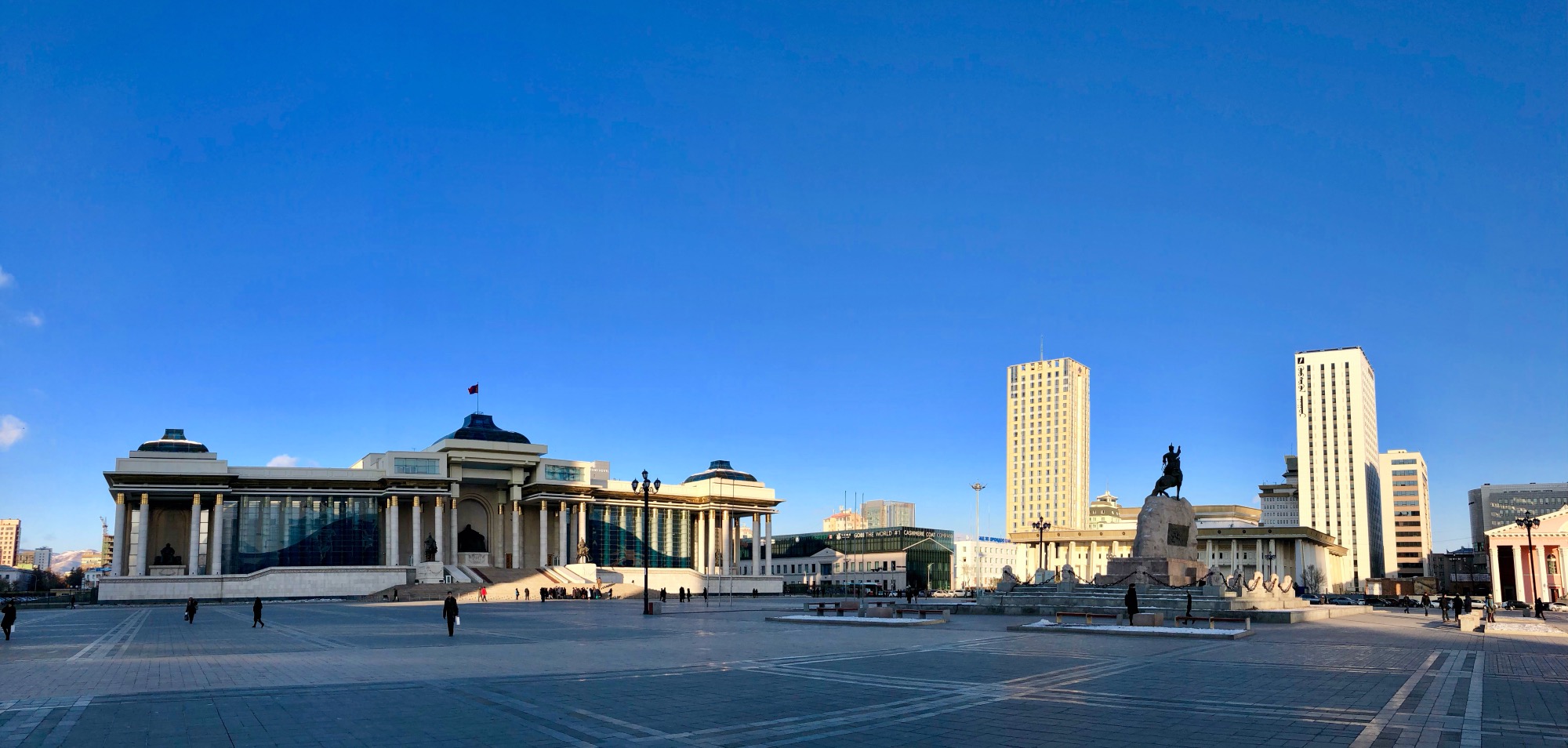 THE BEAUTY OF THE WEST, UUREG LAKE
ACCOMMODATION: LAKESIDE GER CAMP
ELEVATION: 2200m
FLIGHT: 2.5 hours
DRIVING: 90km
A short flight takes you to Ulaangom town, is the capital of Uvs province, on the slopes of the Harhiraa mountain. It lies in the Great Lake Depression in the northwestern region of Mongolia, a land of high mountains with glaciers and alpine lakes, and waterfalls. We shall have a picnic lunch and drive to Uureg Lake, a large and peaceful gem surrounded by glorious mountains with snow-capped peaking at 3,000 m height. You will have a view towards Tsagaan Shuvuut Mountain (3.496 meters above sea level) with a chance to swim and hiking in these incredible surroundings. There, we can set a first yoga and meditation session in the wilderness, above the lake. By the evening, we descend back to our campsite by the shoreline. Overnight in a ger at the camp near the lake.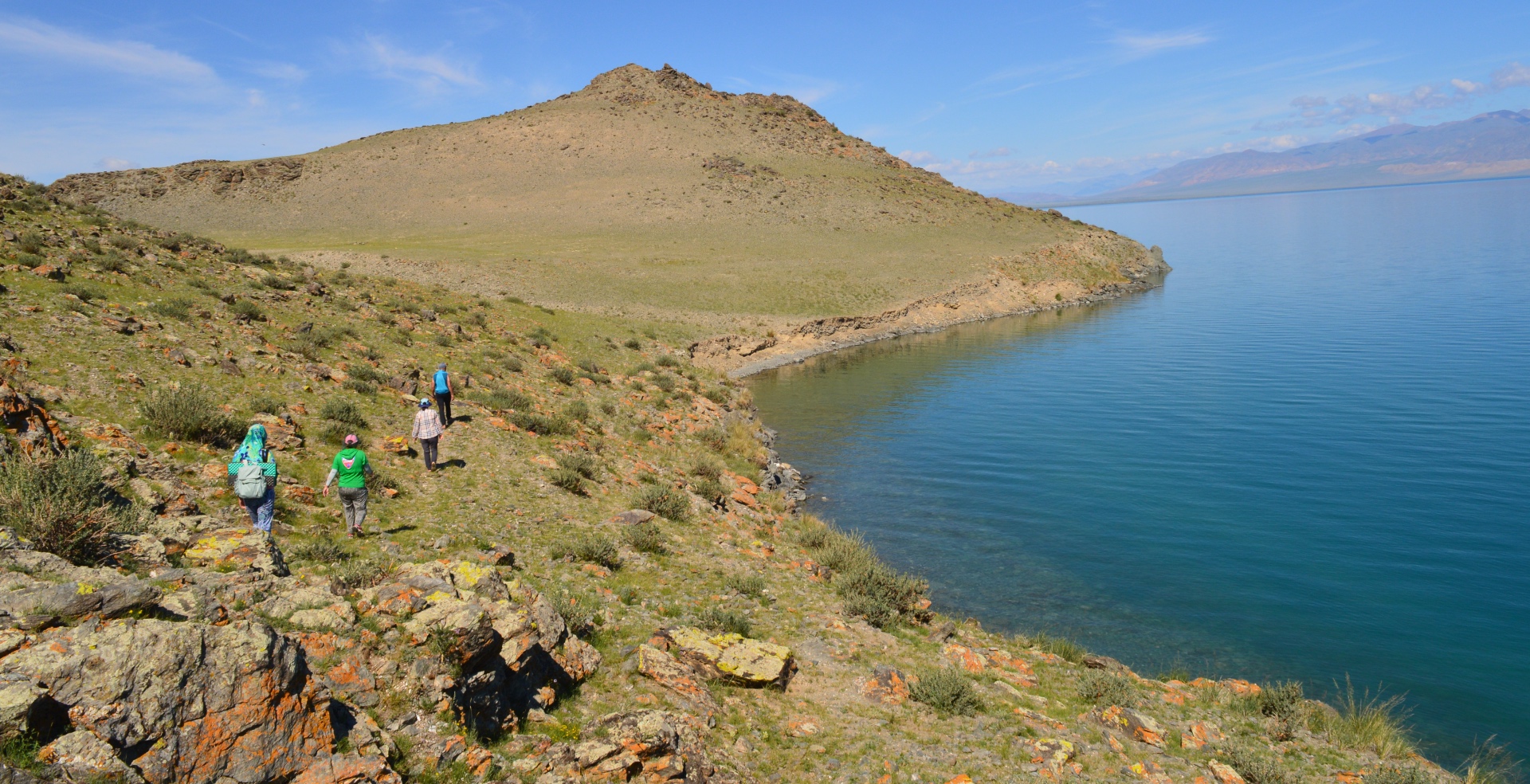 ALTAI MOUNTAINS, GOOJUUR WATERFALL
ACCOMMODATION: GOOJUUR GER CAMP
ELEVATION: 2200m
HIKING DISTANCE: ACCLIMATIZATION HIKE 4km
DRIVING: 90km
We will take on a road to mount Kharhiraa and Turgen mountains located in the Uvs Province, part of the Altai Mountain Range. This is a very beautiful region, with high summits (Kharhiraa Mountain highest peak is at 4,037m, and the Turgen Mountain has an elevation of 3,965m). There are over 10 snowy mountain peaks and glaciers in the are of the Kharhiraa and Turgen mountains. This is a place of alpine lakes, swift mountain streams, vast glaciers, and expansive grasslands. The pleasant tour in the afternoon to the Goojuur Waterfall pleases us with a great hike and helps you get acclimatized.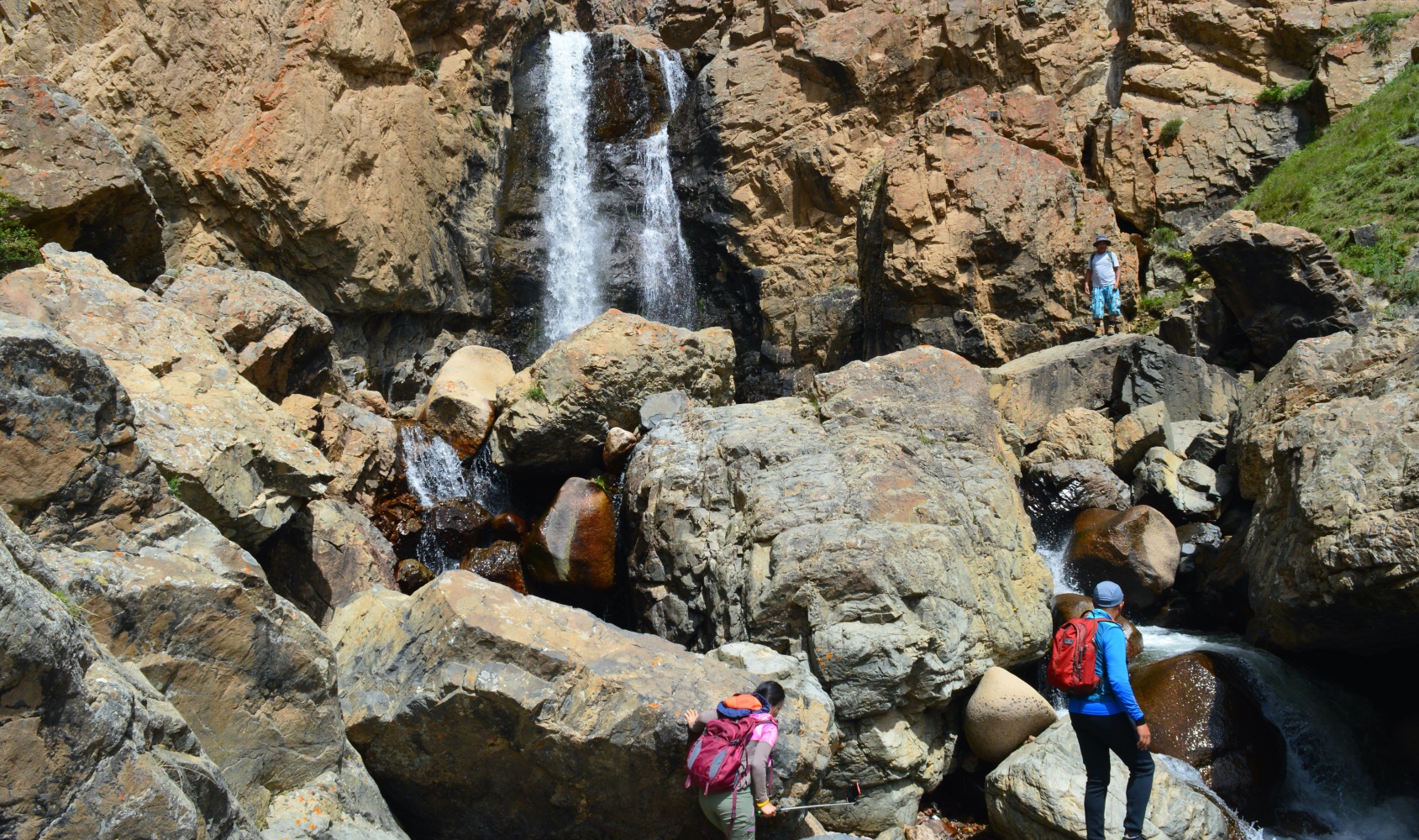 THE GOOJUUR WATERFALL OF ALTAI MOUNTAINS
THE MAJESTIC MOUNTAINS AND LAND OF WATERFALLS

ACCOMMODATION: TENT CAMP
ELEVATION: max 2500m
HIKING DISTANCE: 9km / ascent 710m / descent 520m
Our day four begins with the trek you have been waiting for. A three day, two-night journey along 25 km of rugged, natural, alpine beauty. You'll venture along the mountain trail, feeling close to both the surrounding holy lakes and the giant mountains that fascinate this area. You will share your excitement together with your group and our tour leader and kind coworkers. This unique way of traveling like a family will definitely contribute to an unforgettable experience! The trek brings you through mountain pasture, across mountain passes, and holy lakes. There, we organize picnics with delicious meals. Our cozy campsites will welcome you with hot soup, comfortable tents, warm sleeping bag, and a very good mattress, all being parts of the memories you will make on this experience of a lifetime.
Throughout the trek our equipment, tents, food, and luggage will be transported by 2 humped Bactrian camels, belonging to the ethnic group of the Khoton nomads. They will join us as local guides. We will load our luggage on the pack camels and begin a three-day trek to "the land of the waterfalls". In the beginning, we will have the support from our cars up to the mountain for about 15 km and then start our exciting trek. After 3-hour hiking along the valley, we will reach higher vantage points with the many waterfalls at 2,400m. There, a nice first picnic and a relaxing meditation session will be part of the afternoon, all with a spectacular view over the valleys. We shall sleep the night under the many stars in this majestic place!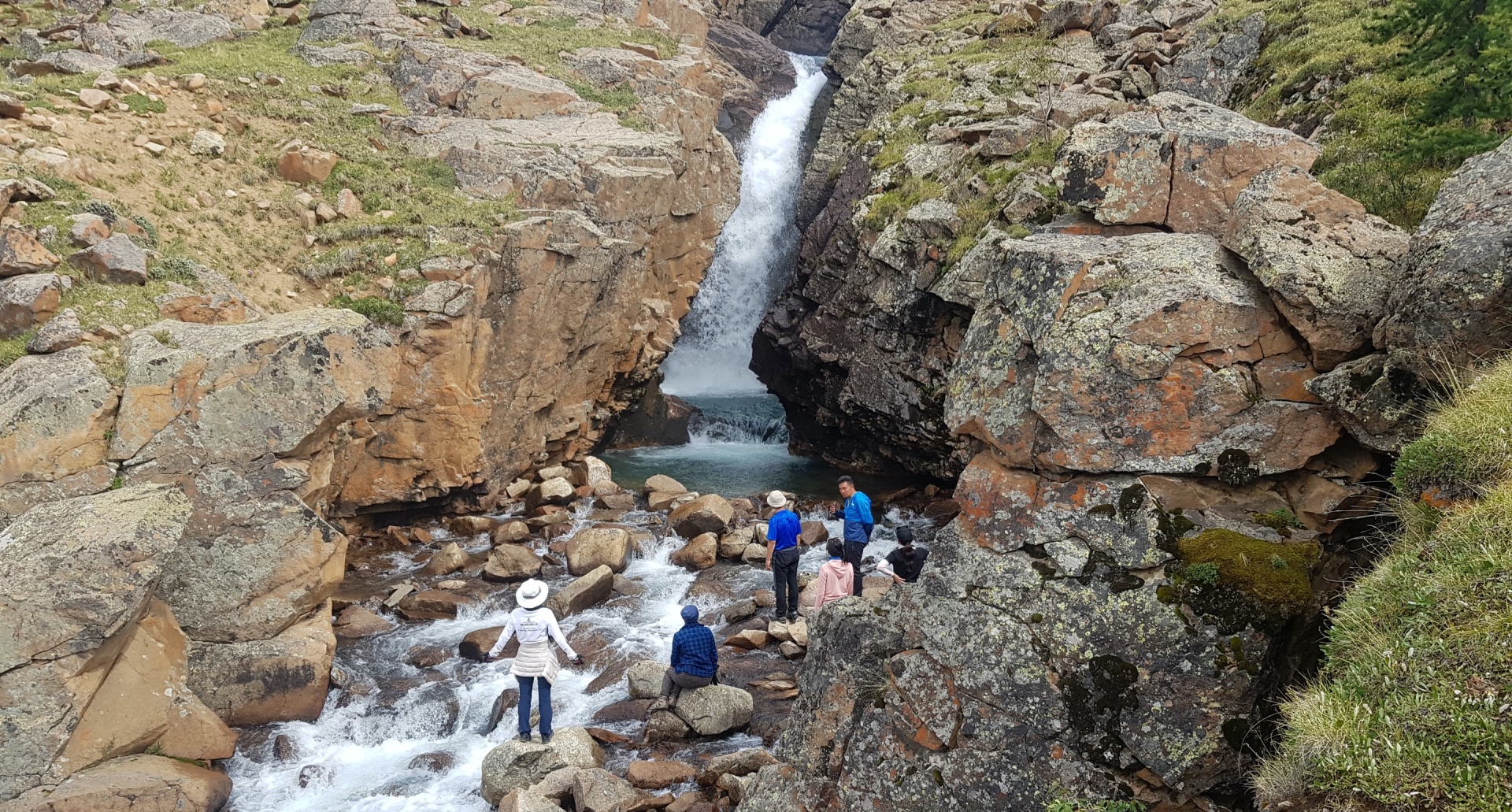 THE HOLY LAKES AND HIGH MOUNTAINS

ACCOMMODATION: TENT CAMP / GOOJUUR GER CAMP
ELEVATION: 2500m
HIKING DISTANCE: 18km (for 2 days) / ascent 400m / descent 700m
These two days we trek across the sacred valleys of Kharkhiraa massif going uphill until reaching the land of many lakes. This wonderful high valley contrasts with the previous landscapes of the mountain, with beautiful flora and unique geological rock formations. Our camel's caravan will catch up with us soon after to prepare our next tent camp and dinner before a well deserved fresh night rest.
Day six marks the last day of this chapter, with a final descent to the Goojuur ger camp where it all started. After a mesmerizing sunrise over the Kharkhiraa Mountains, your morning starts with a mountainside breakfast and a few hours trekking downhill through the valley until we meet back our vehicles. On the way, we stop for a beautiful picnic location where we say goodbye to our local guides and their loving camels. A hot shower and warm yurts will be waiting for you at the Ger camp.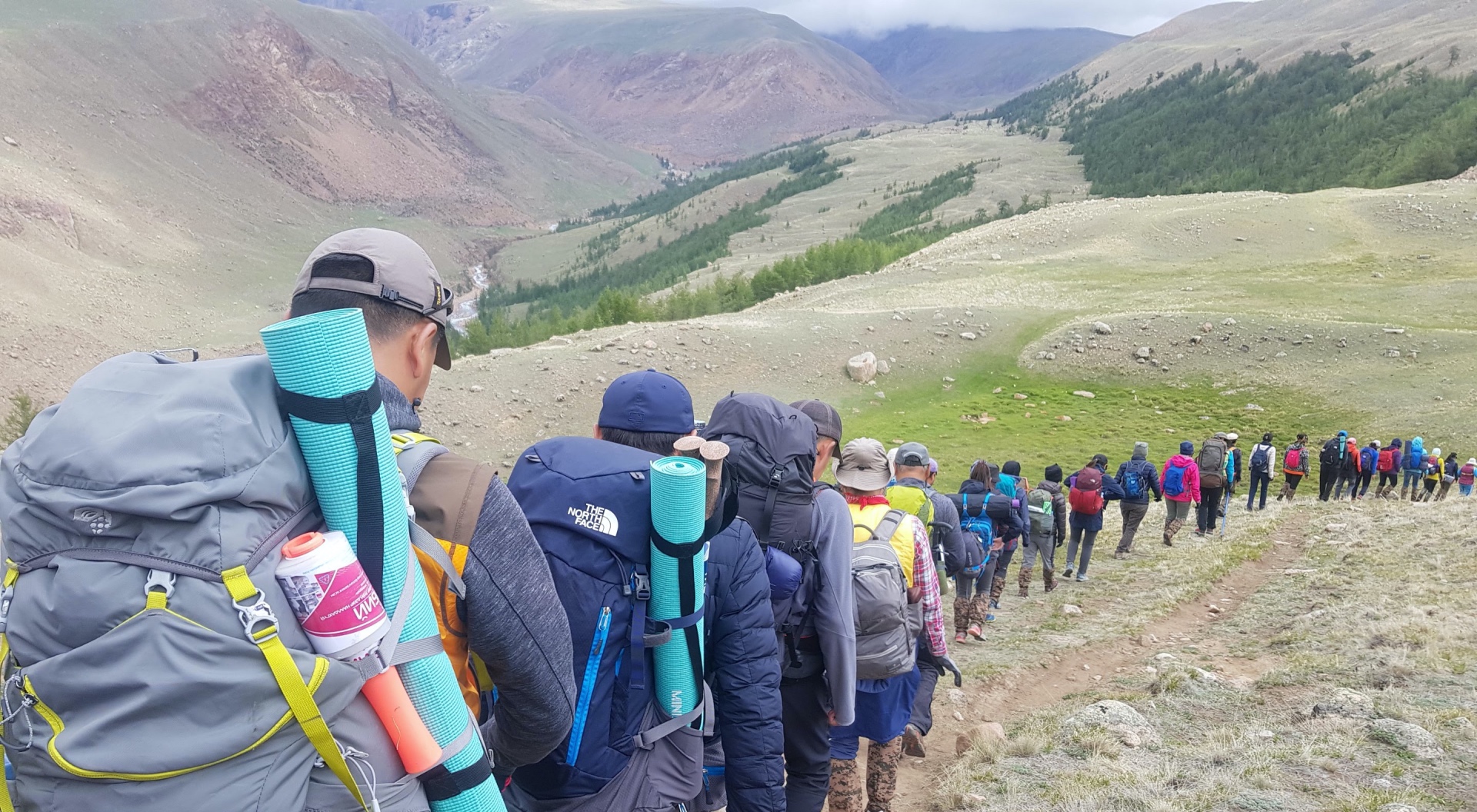 BLUE PEARL OF THE WEST, KHYARGAS LAKE
ACCOMMODATION: LAKESIDE GER CAMP
ELEVATION: 1025m
HIKING DISTANCE: 5km
DRIVING: 190km
We will head to Khyargas Lake, the second-largest salty lake in Mongolia. It lies at an altitude of approximately 1025m. It is 75 km long, 31 km wide, and as deep as 92m. On the north side of the Lake, the Khan Khukhii Mountain is dominating the scene, and its south side displays a surreal white marble-like rock. The beauty and the surrounding view are a real pleasure that one can truly appreciate when visiting this uncommon place. This is also a lovely area for birdwatching and swimming in the salty water.
THE WESTERN ROCKIES
ACCOMMODATION: ROCKY MOUNTAIN TENT CAMP
ELEVATION: max 2000m
HIKING DISTANCE: 5km / ascent 300m / descent 200m
DRIVING: 220km
We head to the unique Rocky Mountains of Western Gobi, a rare sacred place with its peak culminating at 2,500m, a perfect place to meditate and for awesome treks. This is one of the higher energetic and spiritual places in Mongolia. To reach our location, we shall drive about three and a half hours down the paved roads and some dirt roads, passing through grasslands and small desert and sand dunes landscapes. We will have a necessary stop at a small local village to refuel, and getting our food and water supplies for the next couple of days. Arriving by mid-day, we shall enjoy a beautiful meal after setting up the camp. The afternoon will ours to discover freely the surroundings.
EXCURSION IN THE ROCKIES
ACCOMMODATION: ROCKY MOUNTAIN TENT CAMP
ELEVATION: max 2000m
HIKING DISTANCE: 5km / ascent 300m / descent 200m
On this day and after a quiet breakfast surrounded by the rocky formations, we start to hike to the stunning Elephant Rockies, accessible only by a narrow corridor made out of fallen rocks. There, let's find the cave named the Elephant's Eye, to enjoy meditation and relaxing with a view over the valley. It will require a little climbing, but be ensured that our team will help you out very nicely! The Mountain is also very beautiful with its naturally shaped canyons and cliffs. We count about 108 caves (an important number in Buddhism traditions) which are famous for having hosted Buddhist meditation practitioners. Here we meditate about the very nature and power of the elephants and to remain humble facing those giant creatures, in harmony with the scene. Among these unique rocks, we will lie down to a very particular rock shape, that resembles a floor made by men, being an extremely flat surface and dark color, contrasting with the entire rough-looking area. We will then enjoy a different type of meditation, lying on our belly to connect and charge our own batteries (resting) thanks to this very energetic place.
In the evening, we shall have an amazing view over the last light of the day, sitting on the rocks over our camp. Here, the sunsets are incredible and easily some of the highlights of the trip! We can there sit a few minutes for the last day meditation. Our camp made of two semipermanent tents along with a shared space for cooking, an open-air dining, and bio bathroom and outdoor shower make up this special retreat known simply as the Rockies Outpost.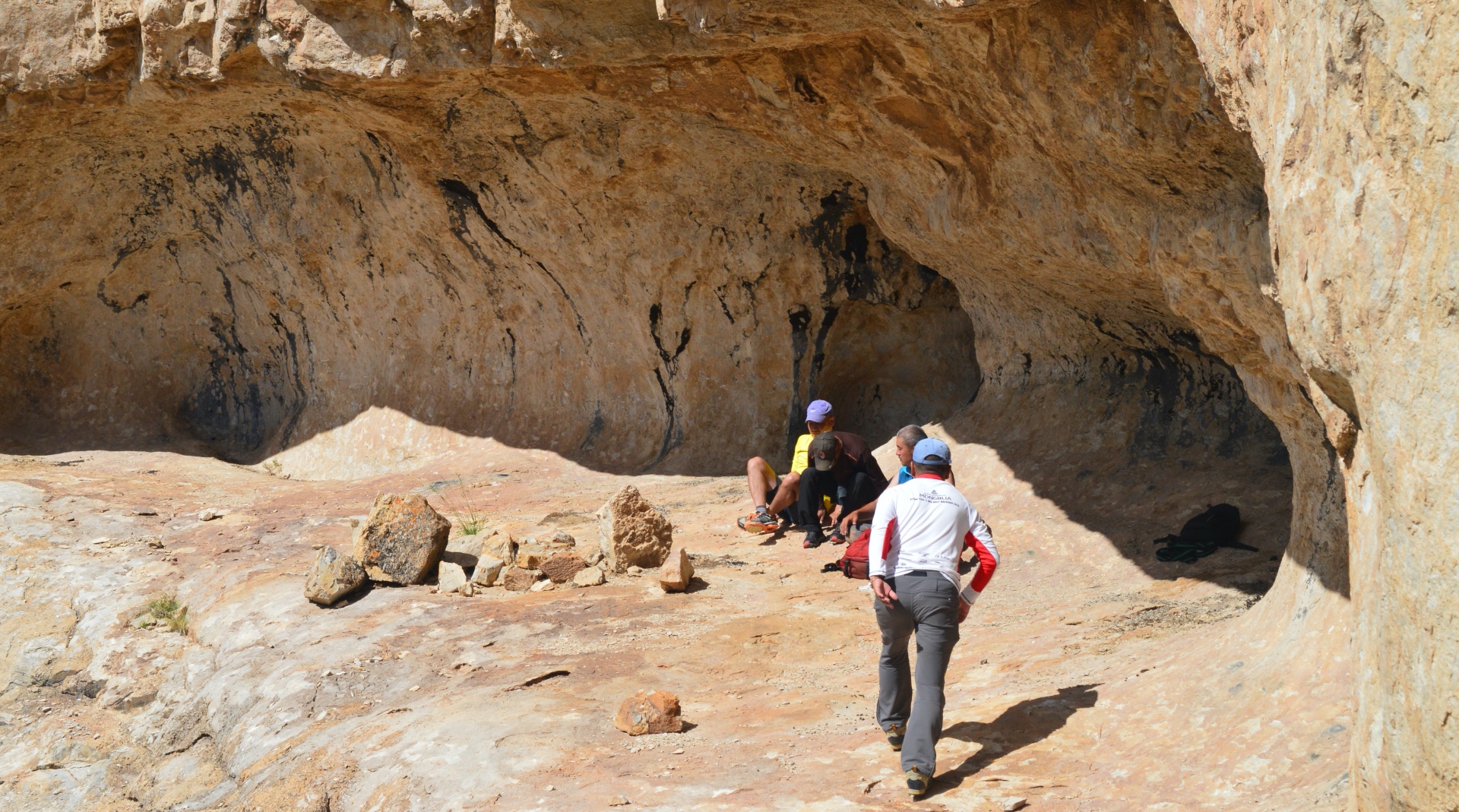 TREKKING IN THE SEVEN BOWL AND GATE ROCK VALLEY
ACCOMMODATION: ROCKY MOUNTAIN TENT CAMP
MEDITATION SESSION: TRAILSIDE MEDITATION
MORNING YOGA SESSION: VINYASA FLOW YOGA
HIKING DISTANCE: 10km / ascent 300m / descent 200m
Great day for yoga lovers and trekkers: we begin with your soulful and mindful yoga class in the morning. This is an incredible opportunity for you to experience the beautiful Rockies in a unique way, with a lovely sunrise and bringing an efficient and healthy yoga session to the mix. After that session, we shall go on a hike through the scenery of the tall cliffs, passing a nearby canyon, and start to venture in a tight space around the seven mysterious holes filled with water known as the "Water of Ibex", the mountain goat.
There the spot is a perfect location for meditating, to find your inner peace in this divine and serene ambiance. This will add a very new experience, matching the natural beauty of the Rockies. We shall then reach the top after a little climb secured by our team, and set a beautiful picnic lunch with a spectacular view over the valleys. The last part of the day will be spent visiting another stunning rocky formation "the Gate Rock" on our way down the mountain. This resembles the gateway or path to this beautiful Gobi Shangrila. A full day outside will drive us back to our camp for a well-deserved rest and dinner time together.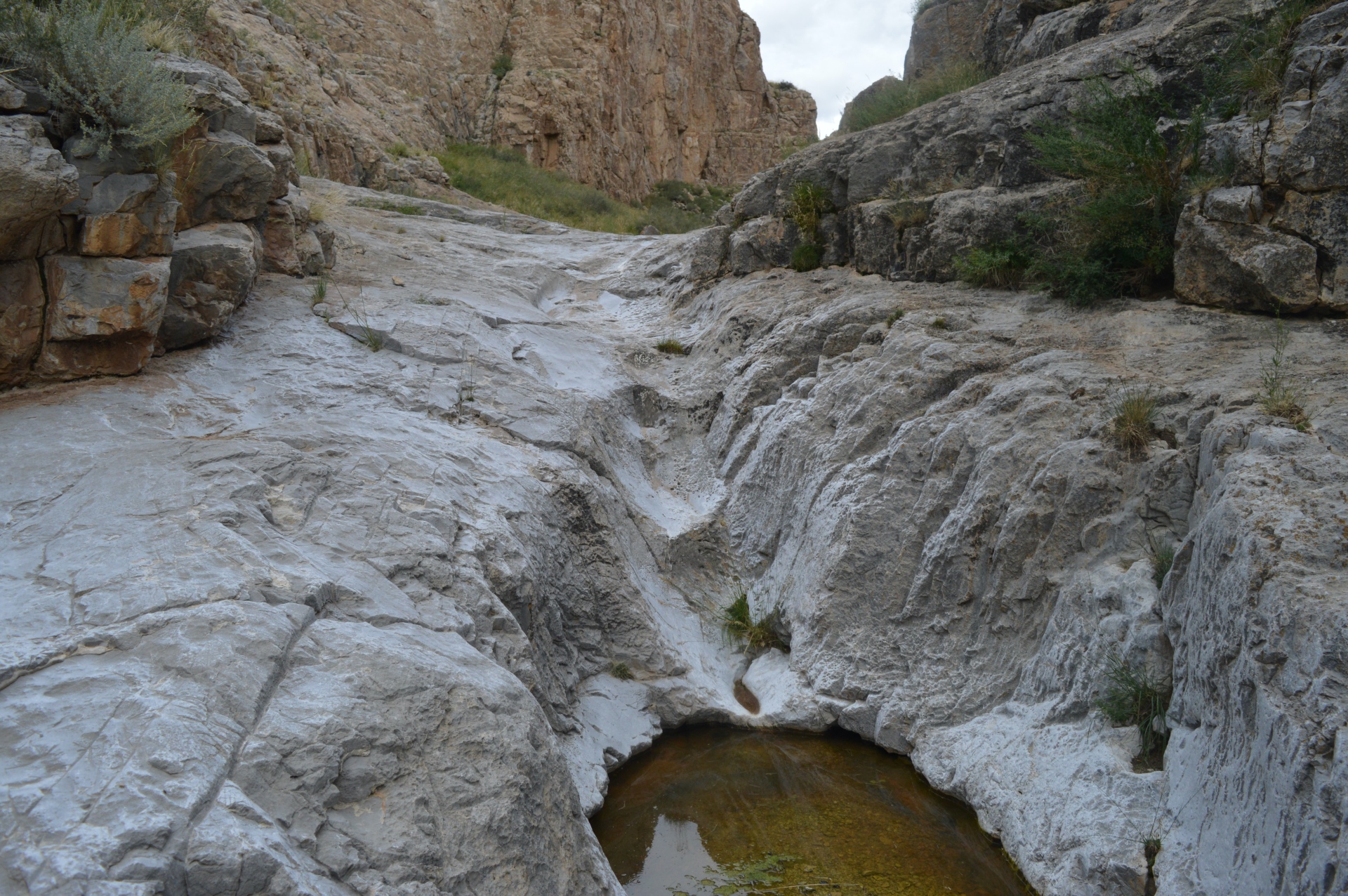 GREAT MONGOL SANDS NATIONAL PARK

ACCOMMODATION: SAND MOUNTAIN TENT CAMP
ELEVATION: 2200m
MEDITATION SESSION: TRAILSIDE SLOW FLOW AND MINDFULNESS MEDITATION
HIKING DISTANCE: 4km / ascent 500m
DRIVING: 100km
On our eleventh day, let's venture more to the West to reach the Sand Mountain Expeditions site. Here you will spend the next three nights in an Eco Tent Camp, focused on preserving the environment and making a point to making everyone feel at home. It will be our starting point for the several expeditions in the region, uncovering the treasures of the West Gobi.
Will we first visit the magnificent Mukhart River, an almost oddity with its water source flowing out of the sands and creating an incredible Gobi ecosystem. This water nourishes all the small bushes and trees and providing wild fruits in the area. We shall enjoy a beautiful little hike barefoot in the water along the paths of the flowing river. This first contact will let you appreciate even Nature, making one with your surroundings. This beautiful walk through sand and dune river will take about three hours of gorgeous exploring of this unique Gobi. Your outpost for the night is sand tent camping before gets there, we explore Gate Rock, a unique rock formation on the summit of the mountain. On your return from the Gate Rock, our cook will welcome you with deliciously prepared vegetarian meals and sandwiches along the trail. You will be hosted in fully equipped Luxury Desert Tents bringing the best comfort and Mongolian tradition in a truly amazing location. Each tent has been carefully designed with a private space in mind, opening a direct view on the largest sand dunes of the West. The service of hot towels scented with essential oil will help after a long day discovering the surroundings.
You can then relax from your daily adventure from the comfort of your own authentic tent. The orientation of the Tent will allow you to enjoy the most beautiful sunsets of the West in this unique ecosystem. You will have the pleasure to enjoy the warm welcoming culture of the West, and an exquisite cuisine only to be found at the Desert Camp. Each ingredient has been specially selected in order to provide joy and energy for the expeditions to come, resulting from the experience of serving travelers for many years, the suggestions of our Tour Leaders and experts of the region.
A DAY IN THE GOBI MOUNTAIN LAKE

ACCOMMODATION: SAND MOUNTAIN TENT CAMP
ELEVATION: 2100m
MEDITATION SESSION: TRAILSIDE SLOW FLOW AND MINDFULNESS MEDITATION
HIKING DISTANCE: 4km / ascent 500m
DRIVING: 90km
We will take a short drive to the Great Sand Dune Lake. On the Khangai Mountain range Western plateau, the Ulaagchin Black lake is certainly considered as one of the Jewels of the West Gobi. It is an amazingly beautiful freshwater lake, surrounded by the Tovkhosh Mountain and on its Northern shoreline by the Great Mongol Sand Dunes. Here, the dunes are ending themselves into the water, creating a surreal beach effect. A gourmet picnic will be set up for our lunch at the shore of the lake, facing lots of beautiful peninsulas and bays that penetrate into the lake water. We shall rest in the area for the afternoon, then take a drive back to our Sand Mountain Tent Camp. In the evening, we will climb to the nearest hills. The view of the surrounding area from the top of the hill is amazing towards the endless Great Mongol Sand Dunes with the most beautiful sunset in the Gobi.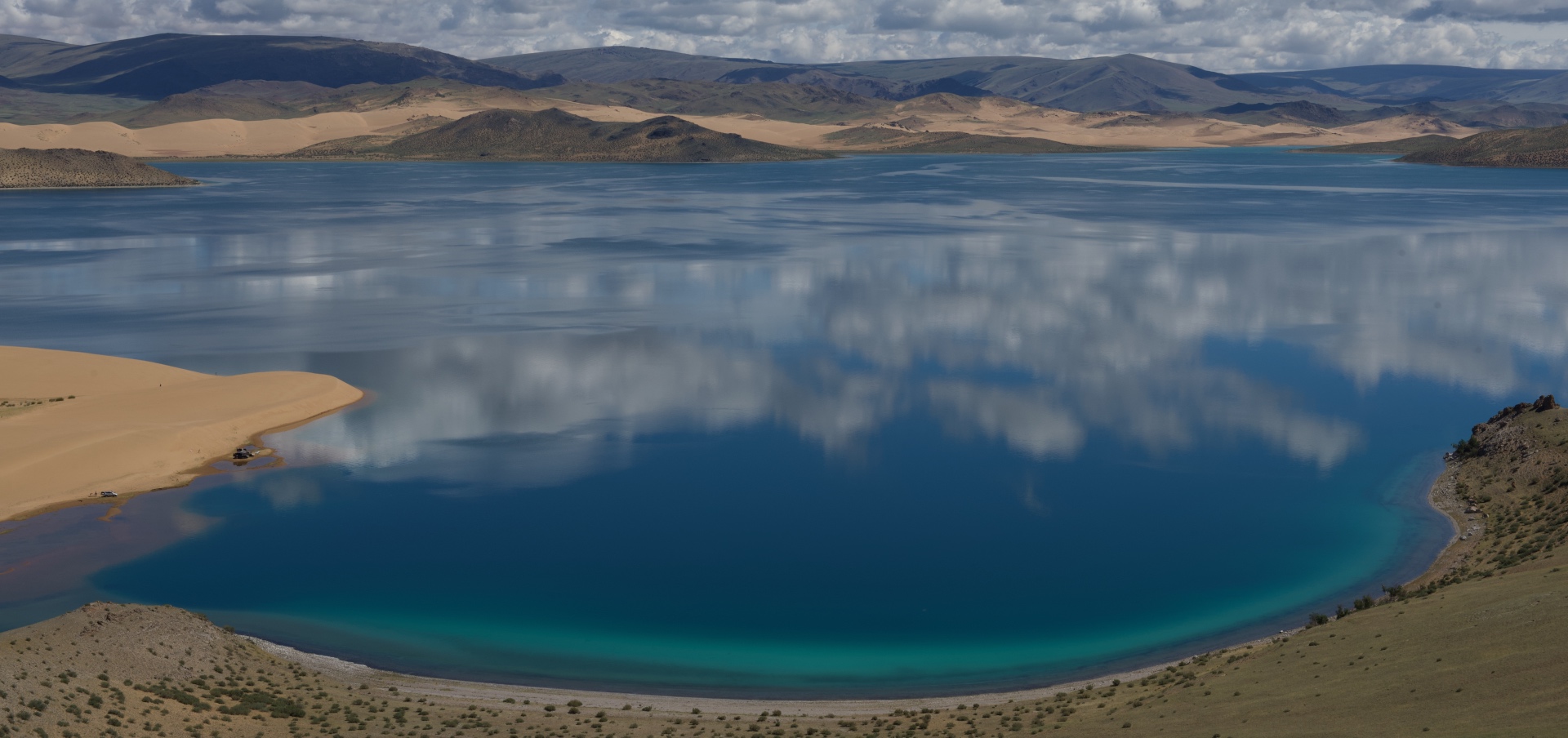 SAND MOUNTAIN EXPEDITION

ACCOMMODATION: SAND MOUNTAIN TENT CAMP
MORNING YOGA SESSION: VINYASA FLOW YOGA
HIKING DISTANCE: 8km
The final segment of your sand mountain luxury adventure takes you to gigantic sand mountains. After waking up, you will be warmly welcomed by the stunning sunrise view over the Rockies. This morning you will revitalize and rejuvenate yourself through a blissful and mindful yoga session. You shall enjoy it until breakfast is served around 08:00 am. Today, let's explore the nearby rocky sand mountain, and forget yourself amongst breathtaking landscapes. The park that is home to the tallest dunes in Mongolia and the highest peaks of the West, contrasts with the large open space of the desert. It hosts various panoramas of wetlands, grasslands, larch, forests, lakes, sand dune, and rivers. This quiet region is a treasure on its own, one of the most beautiful places to be while in Mongolia.
After our light hike, you can enjoy a refreshing shower followed by the use of hot towels, scented with essential oil. By the comfort of your tent, you a seat, and relax on your seat, share stories with your fellow travelers with a glass of wine while dinner is being prepared. This will be your last night at the Sand Dunes and western Mongolian adventure. In the evening you are invited to a beautiful gobi bonfire cocktail party.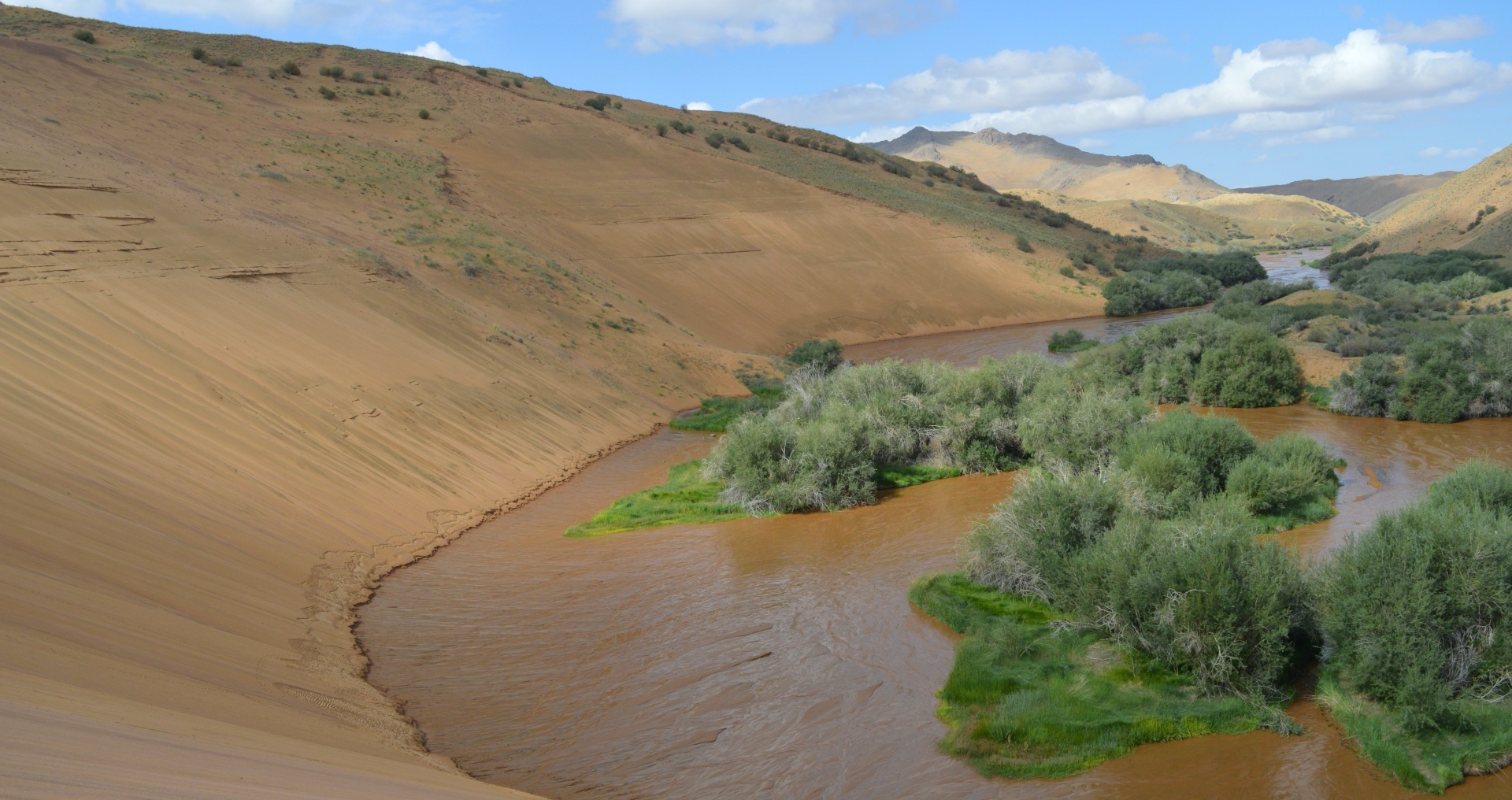 HIGHLIGHTS OF SAND MOUNTAIN EXPEDITIONS
THE SACRED MOUNTAINS AND THE LAKES

ACCOMMODATION: GUEST GER OF THE LOCAL NOMAD FAMILY
ELEVATION: 2000m
AFTERNOON YOGA SESSION: HATHA YOGA
HIKING DISTANCE: 4km / ascent 500m
DRIVING: 240km

After a pleasant breakfast, we will leave the amazing West Gobi to venture through a forested zone and reach the Green Gem Lake of the Khangai Mountain chain. We shall reach a destination, not far from the Ider Village. We will drive through stunning views made of mountains, forests, along with nomadic campsites. The Khangai mountain chain is one of the three largest mountain ranges of the country. One of the sacred peaks, Mount Otgon-Tenger (3905m) will be visible on the way. It has been worshipped for countless generations by the Mongols. The tradition of worshipping sacred mountains and waters is part of the outstanding cultural heritage of Mongolia, dating back from the Hunnu Empire (2nd Century BC). The area where we will be spending time is part of the strictly protected zone of Mongolia. We shall be hosted by a yak herders family's guest ger, probably less luxury yet lovely and comfortable. There we will have a late dinner and have some rest, comfortable with our own sleeping bags and liners, inside of a beautifully decorated ger.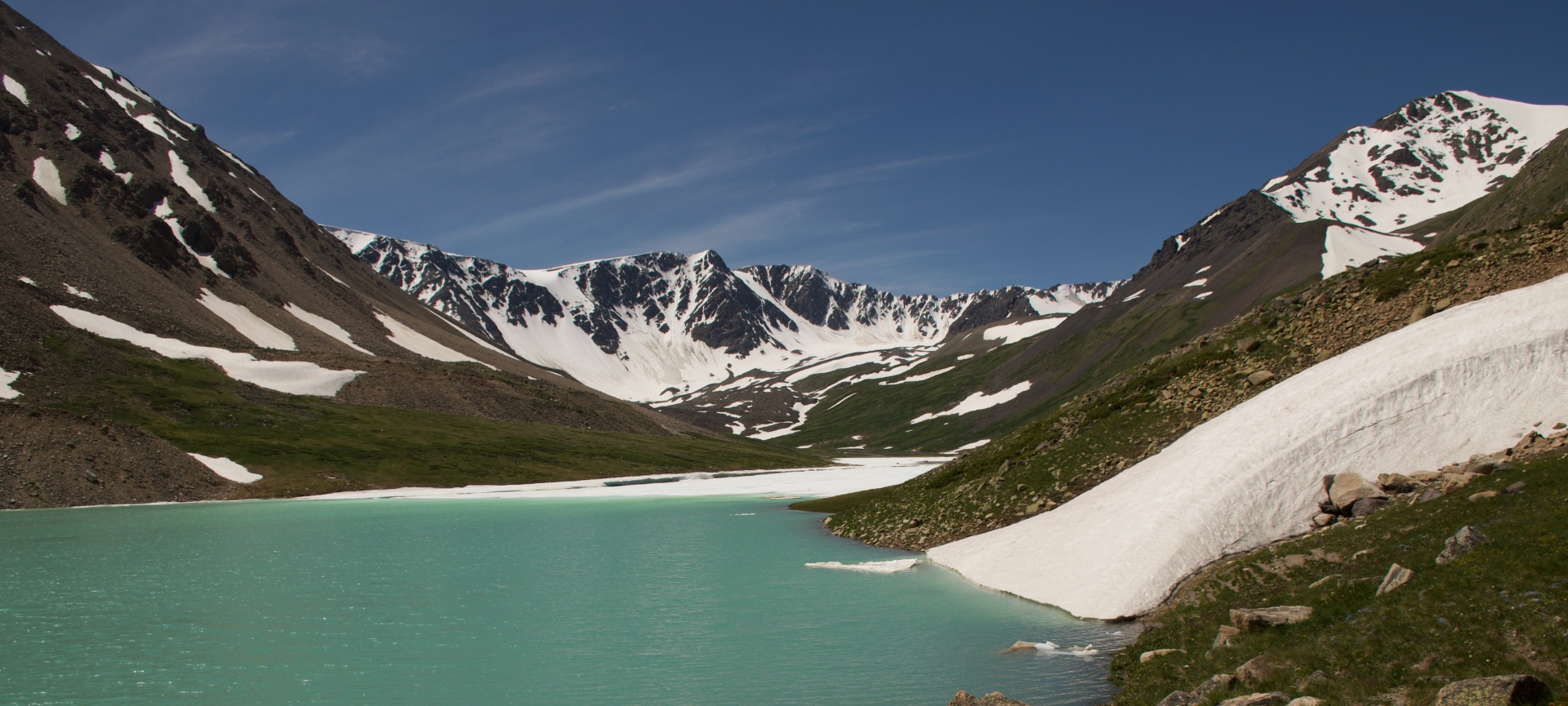 TREK TO THE HOLY MOUNTAINS

ACCOMMODATION: GUEST GER OF THE LOCAL NOMAD FAMILY
ELEVATION: 2000m
AFTERNOON YOGA SESSION: HATHA YOGA
HIKING DISTANCE: 4km / ascent 500m

We open the next day with a hike to higher ground, near the Otgon-Tenger mount. We will explore yet another natural beauty, a very pure and pristine place, not yet known to riders or travelers. This is an original location, only opened to travel with Gobi Mountain Lake. Here you will observe a land made of high mountains, with their lower sides forested areas, and rocky formations and snow cap to their top. Quiet lakes and raging waters of the mountain rivers will bring another dimension to our hike. Stay overnight under a guest Ger with our local nomadic family. We will make you feel at home, staying there comfortably with our technologies and gear, and cook for delicious meals to ensure the best rest you can get.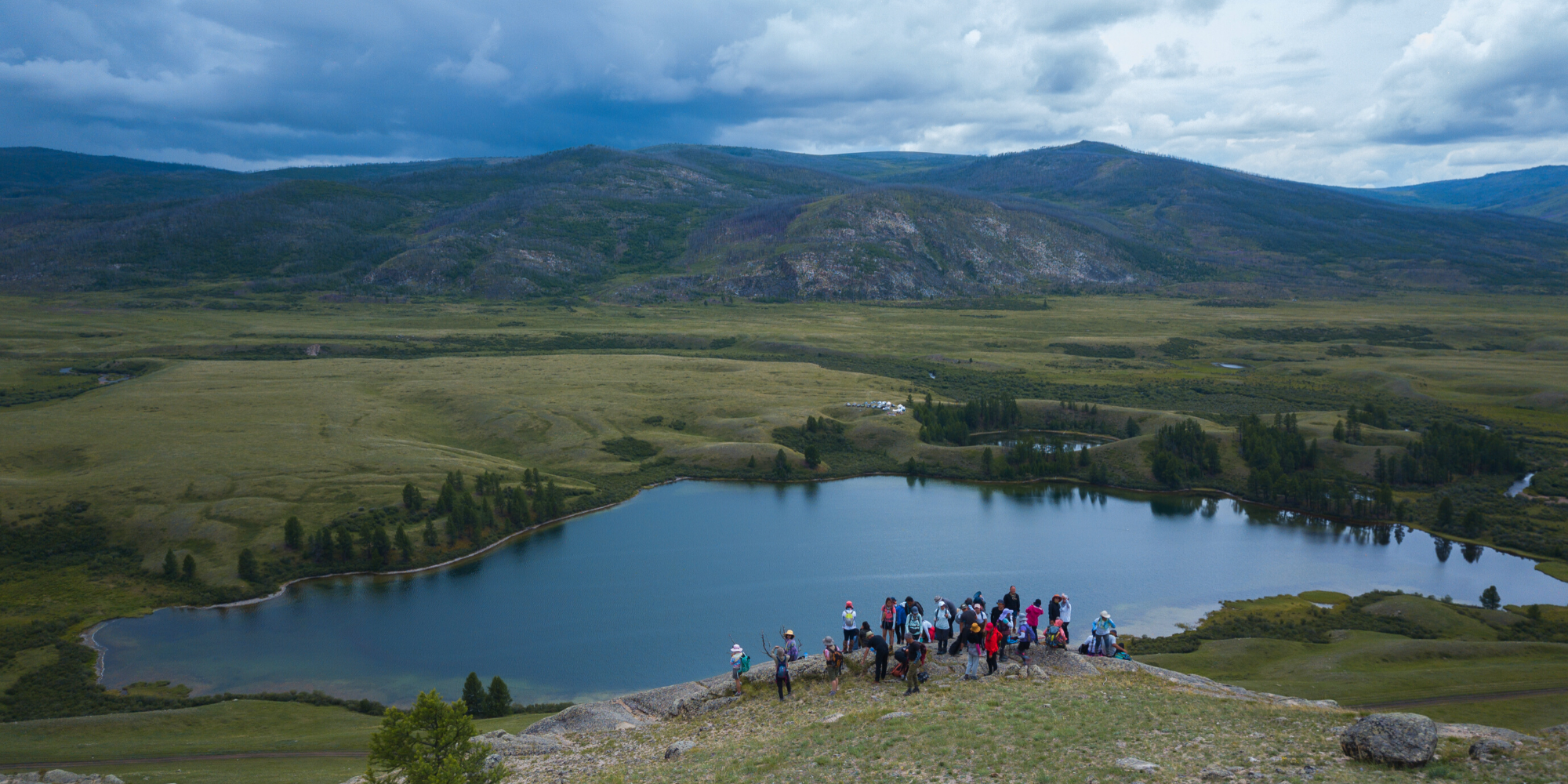 TREK TO THE TRANQUIL LAKE
ACCOMMODATION: GUEST GER OF THE LOCAL NOMAD FAMILY
MORNING YOGA SESSION: VINYASA FLOW YOGA
MEDITATION SESSION: LAKESIDE WATER MEDITATION
LONG-DISTANCE HIKING: 10km / ascent 500m
After an early morning, Vinyasa Yoga at the guest ger stay, we will sit down for a fresh breakfast. Then we will be off to our first hike to the high mountains, along a forested area, and going uphill to a stormy river uncovering a stunning and arriving at the peaceful Green Lake. Our trek will take place within the highly spiritual and energetic sacred Mountain range Otgon-Tenger. The Mongols, as part of worshipping this area throughout many centuries, a deeply respected place, and subjected to offerings by the locals. We sit down for a picnic lunch before heading up to reach the holy lake. There, we will have a slow flow and Mindfulness Meditation practice outdoors. The mountains surrounding the lake will be with us for a magical moment. We will then take our time to take photos and rest a time, before heading back to the trail. We will join our cars to bring us to our gers before dinner. If the time allows for it, we could enjoy a bonfire in this beautiful place.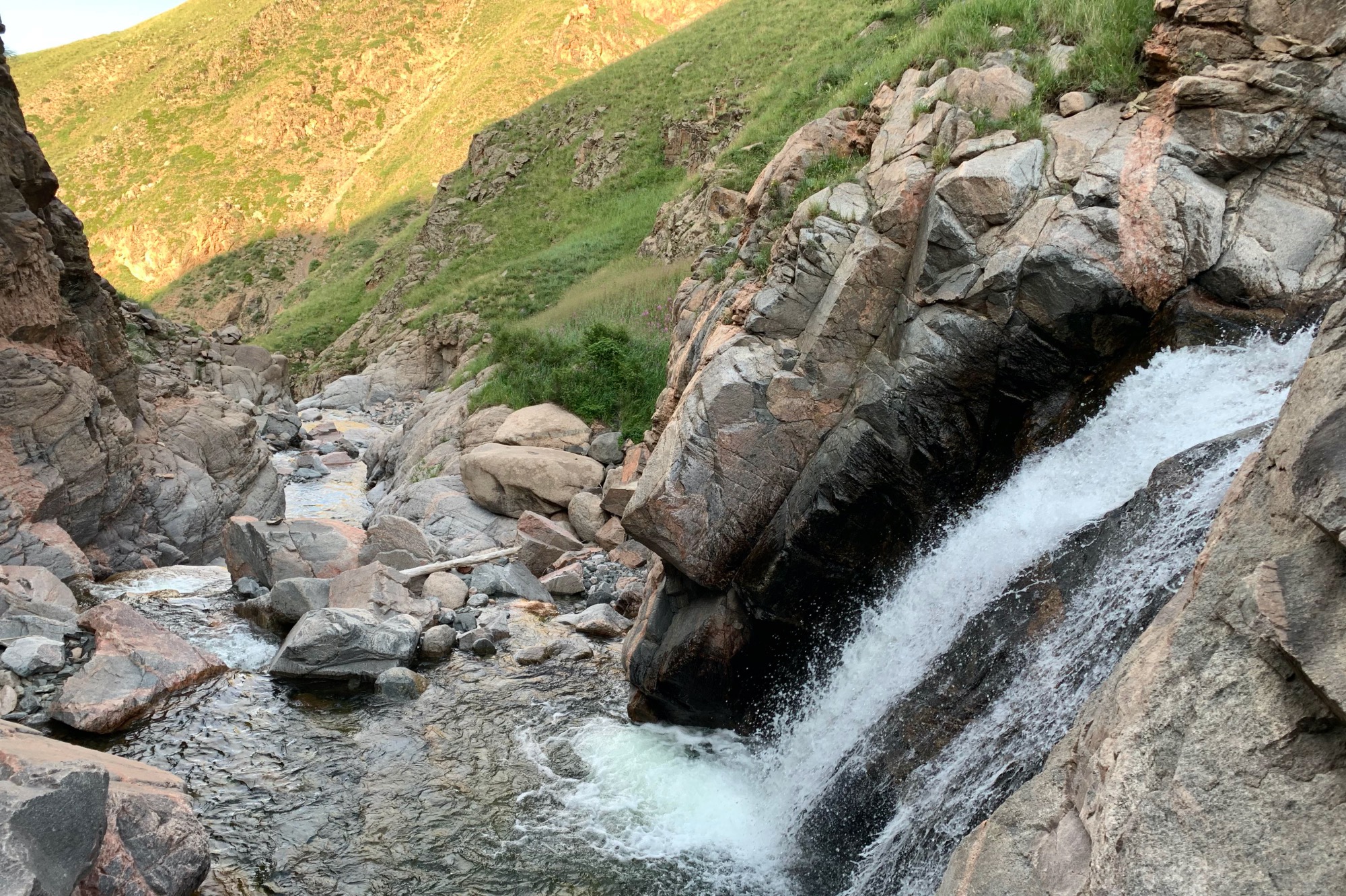 AMONG NOMADIC YAK HERDING FAMILY

ACCOMMODATION: GER CAMP OF THE LOCAL NOMAD FAMILY
ELEVATION: 2000m
MORNING YOGA SESSION: VINYASA FLOW YOGA
DRIVING: 280km / paved road
After another morning yoga session, we will continue towards the former capital of the nomads. We will drive about 4 hours to a nomad family at the heart of the Khangai Mountain Range, in Central Mongolia. The region features many historical vestiges, picturesque landscapes, surrounded by verdant sacred mountains, rich fauna and flora, making this area the perfect place to discover the nomadic lifestyle. We will cross two high passes on the way, driving passed great mountains, forests, and many nomadic campsites. Reaching our destination, We will live with a family of nomads, to learn their everyday life, play with the children, and attend daily duties such as milking yaks and producing your own dairy products. Within arrival, our nomad family welcomes us with a typical Mongolian dish, as part of a traditional meal for dinner. In the evening, we can experience more about the nomadic way of life by observing or helping the family to gather their horses, cows, goats, and sheep. At this altitude (about 2500meters) the cows are replaced with yaks and hybrids by nomad families. In this region, we also cooperate with another nomad family for the Argadai and Berhdei Projects, which breed the native Mongolian guardian dog named the "Bankhar".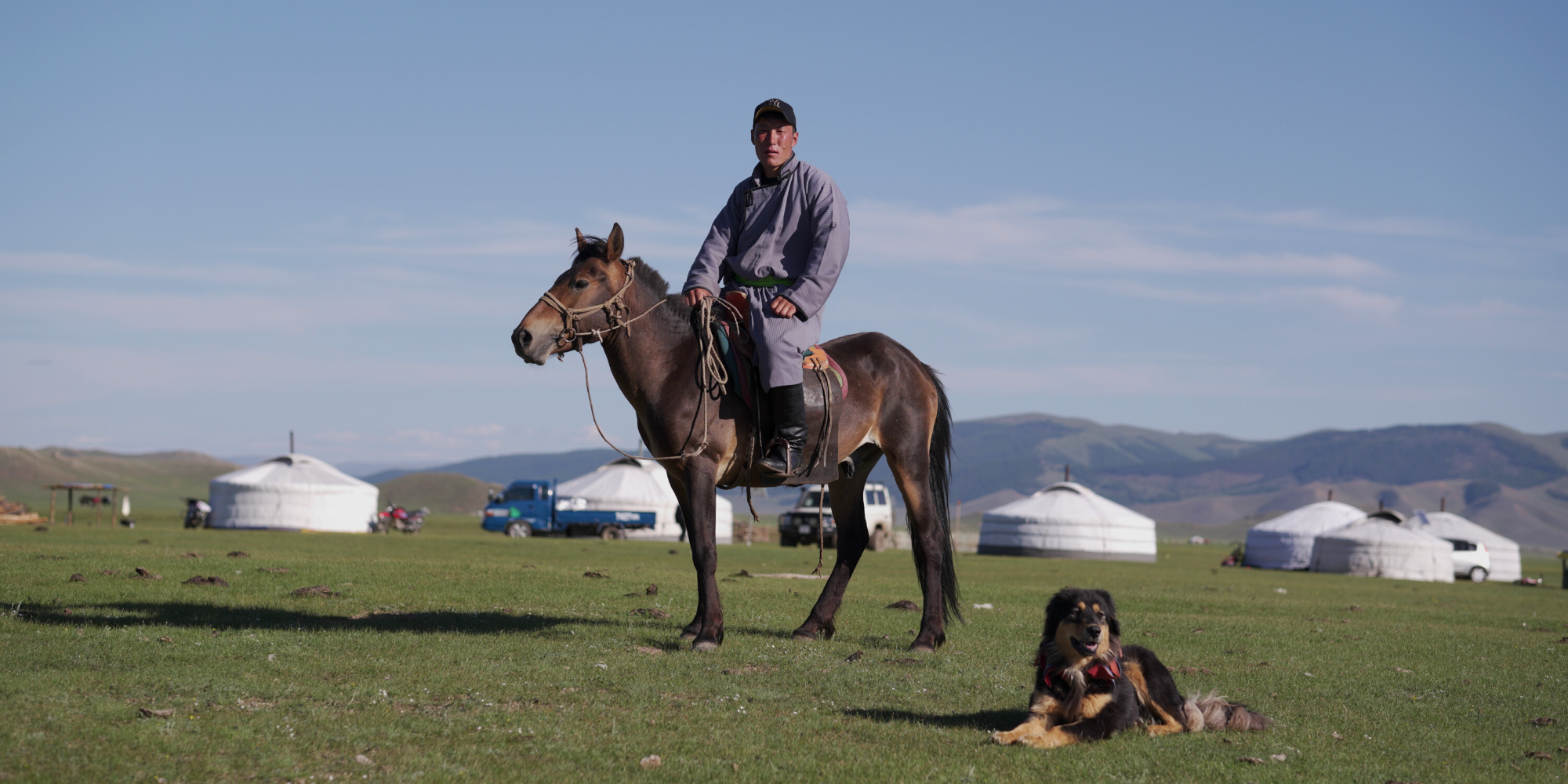 HIKE UP TO THE HIGH SPIRITUAL MOUNTAIN

ACCOMMODATION: GER CAMP OF THE LOCAL NOMAD FAMILY
ELEVATION: 2000m
MORNING YOGA SESSION: VINYASA FLOW YOGA
DRIVING: 10 km
HIKING: 2km
After breakfast, we head out for a guided hike to one of the Tsakhir region's best trails: the Shiveet Mountain. Our last hike will drive us along the rocky banks of a river with a gradual path uphill for about 3km until reaching the top of the mountain for an amazing view. Lunch will be served there, with a gourmet picnic. The view over the valley and our distant campsite will be just stunning, and from the top of a sharp shaped rock, it will be possible to create epic photographs! We will enjoy a small pace to get back to our cars down the valley and be back to our camp with a peaceful heart.
TREK TO THE SHIVEET MOUNTAIN

ACCOMMODATION: GER CAMP OF THE LOCAL NOMAD FAMILY
ELEVATION: 2000m
MORNING YOGA SESSION: VINYASA FLOW YOGA
HIKING DISTANCE: 3km
DRIVING: 2km
This morning, an inviting breakfast will welcome you to start the day, on the patio of our house, just next to the ger stay. Following it, we will prepare packing our essentials to hike up a high spiritual mountain located just between the Tarvagatai National Park mountain area. This mountain is a very spiritual place, being the location sheltering 2 saint's stupa at the top. The visitors come to worship the entire mountain for its high energy and be blessed from the 2 saint's stupa. As we reach the top, it will be interesting to see inside of the stupa, our eyes peaking through a specially made opening, to observe the mommy of a 200 years old monk, resting in a deep meditative state. The start of this small hike will be challenging for first-time trekkers because the energy of this place is very powerful. Most of the travelers feel some difficulties walking up the first part of the mountain, but after reaching mid-point, the legs will feel much lighter, and the hike itself a real joy. The overall trekking distance is only about 2-3 km, but it will feel much more. When we come back from this journey, our cook will welcome you with a delicious lunch. By the nightfall, you will be amazed by a sky full of stars in this vast valley, wrapping up this day, ready for another adventure.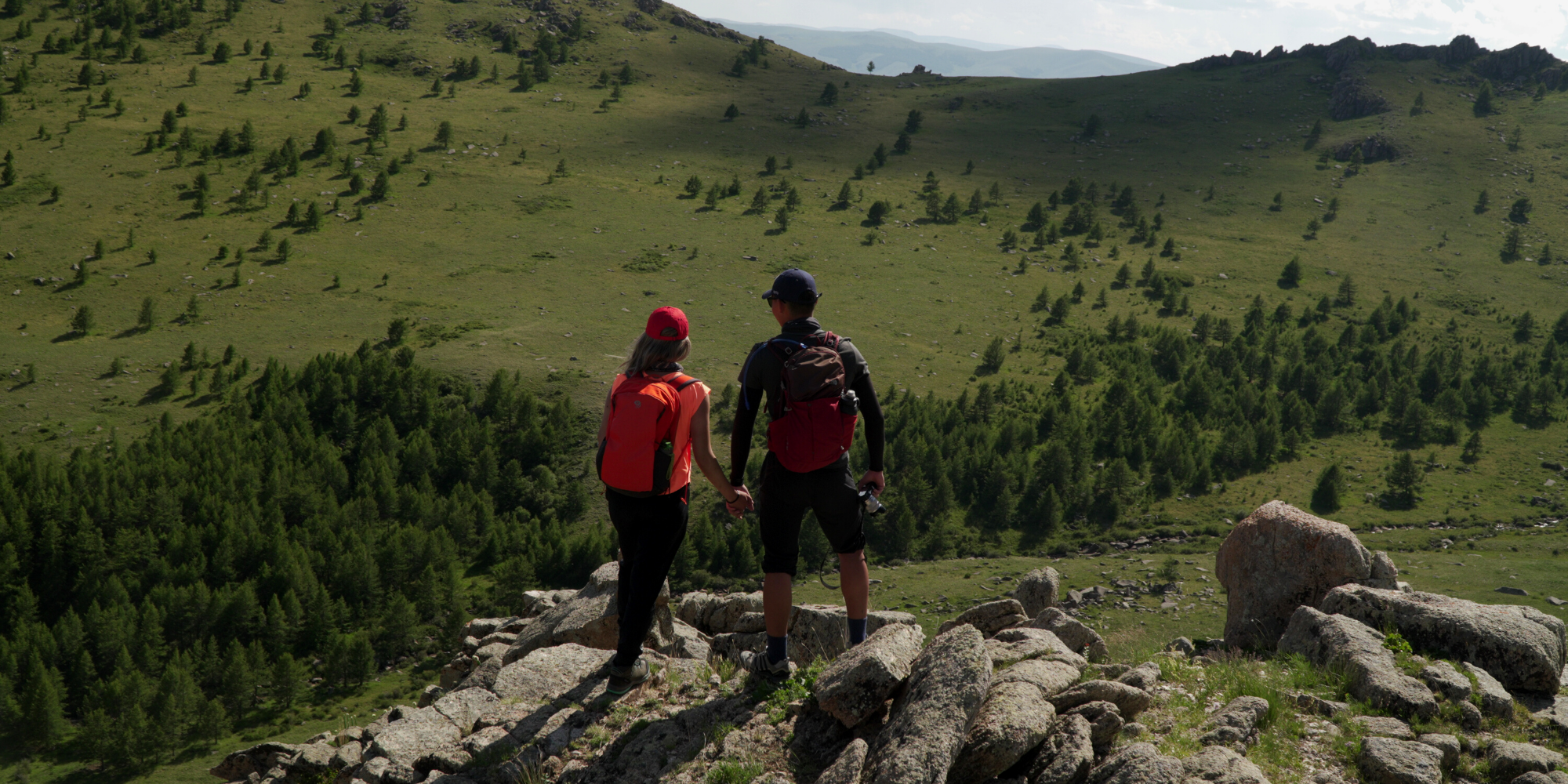 ERDENEZUU THE WORLD HERITAGE MONASTERY

ACCOMMODATION: KHARKHORIN PRIVATE HOTEL
ELEVATION: 1500m
MONASTERY VISIT: REJOICE THE CHANTING
DRIVING: 380km
Our last breakfast at the countryside. We soon will be on our way to Kharkhorin, the ancient capital of the Great Mongol Empire. This legendary city was created by Genghis Khan in 1220 a became the capital of the Empire under his rule. Upon arrival in the town, we will be welcomed at our private hotel rest a moment enjoying lunch together. Then, we will visit the oldest and most beautiful monastery of Mongolia: Erdene Zuu. Built by Abtai Sain Khan in the 16th Century, up to 10,000 lamas practiced Buddhism within its wall, surrounded by 108 white stupas. We start visiting the Erdene Zuu Temple complex first, followed by the Museum of the city, with its oldest structure dating back to 1585. Absolutely incredible Buddhist art is visible inside a museum on-site. Indeed, it is a rich cultural history that has existed for over 400 years. The iconic tankas, appliques, the precious sculptures of diverse Buddha's, ancient Buddhist wall paintings religious instruments are all truly unique. We shall witness living Buddhist tradition, daily chanting of the Lamas at the Lavrin Temple. And uniquely, it seems to have become totally acceptable for us to join in and be involved in the ritual – all for a photo opportunity. The morning or daily chanting ritual is an important part of the Buddhist culture and, despite being a spiritual ceremony, you are able to observe and become involved – but only if you are willing to do it respectfully. In chant, the power of sound connects us with ourselves, one another and to the divine. It is an ancient, tried, and true form of meditation and prayer. One of the most transformative and nonsectarian spiritual practices, chanting almost immediately takes us out of our heads and beyond the mind, into realms of pure spirit and bliss. Shortly after we will immerse ourselves into the deep history of the Great Empire at the city History museum. A shuttle ride takes us back to our private hotel for a refreshing shower before dinner. This will be our last dining night out, bringing along the best memories of this incredible adventure.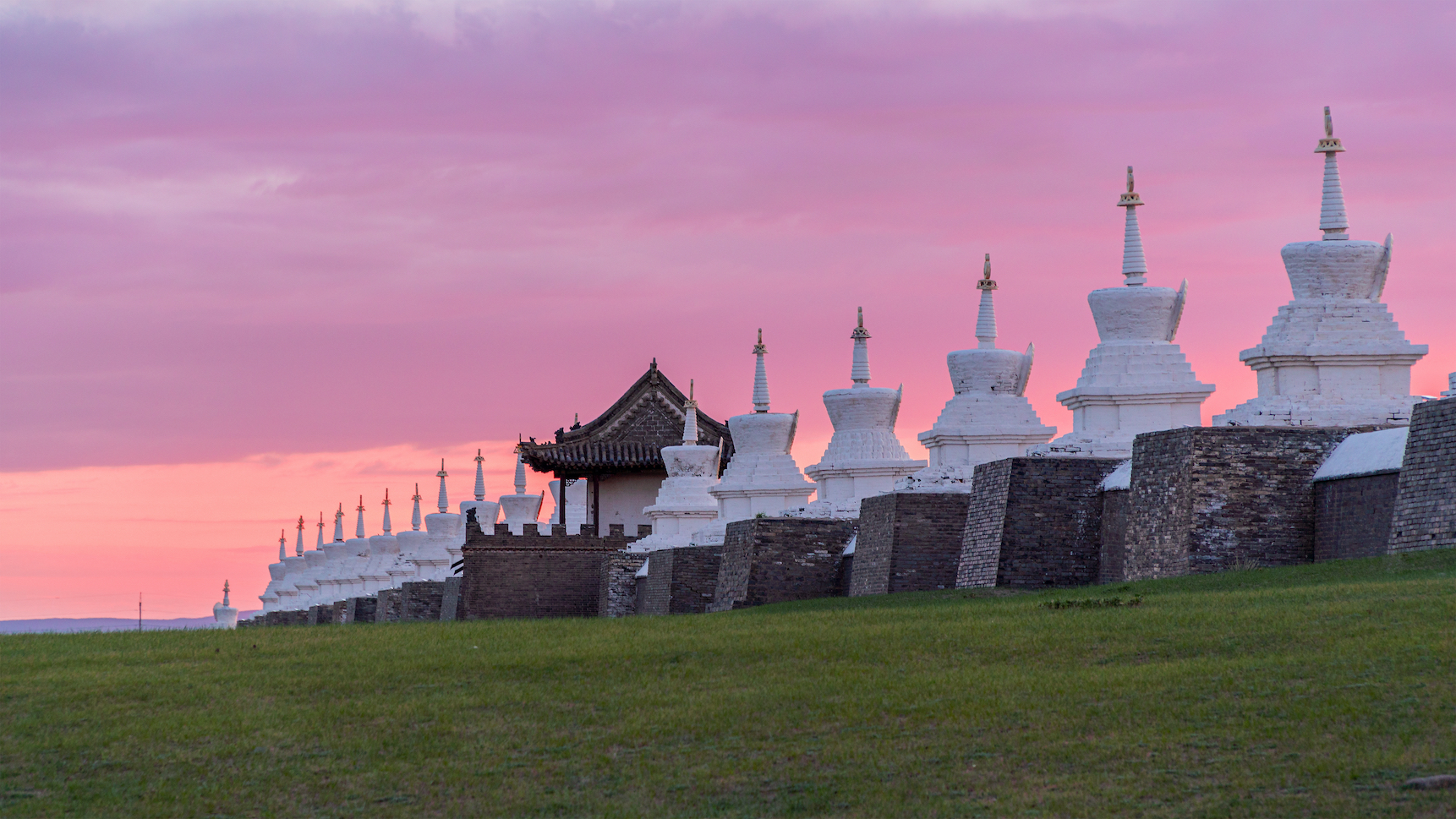 JOURNEY BACK TO ULAANBAATAR

ACCOMMODATION: CENTRALLY LOCATED FOUR STAR HOTEL
ELEVATION: 1350m
DRIVING: 380km / paved road
We say to Kharkhorin city goodbye. It shall take up to 6 hours down the road. Upon arrival, we will transfer you to your hotel and the rest of the day will be yours to visit the cashmere factory outlet before the farewell dinner.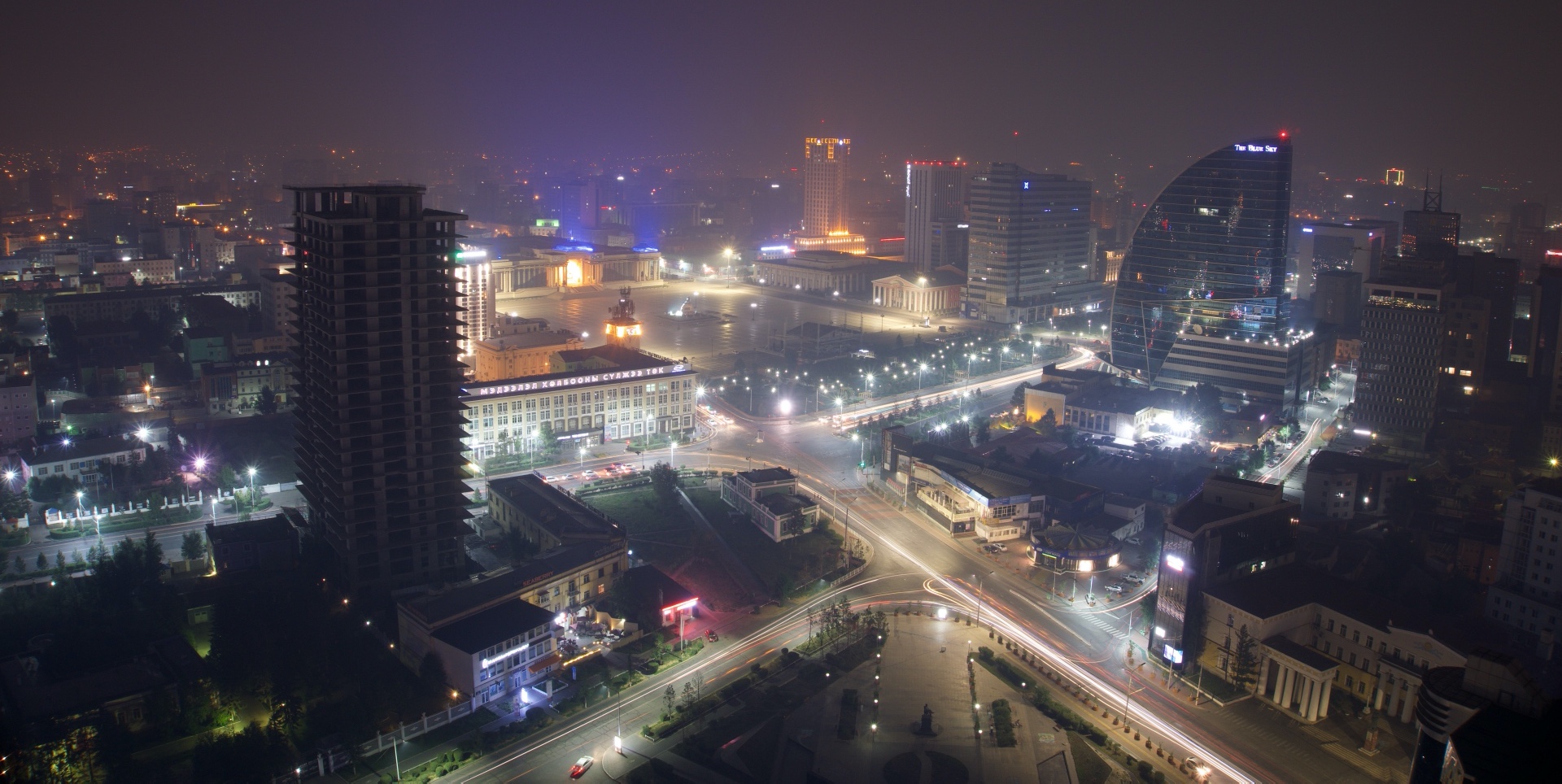 FLIGHT RETURN TO HOME
TRANSFER AND DEPARTURE
The final day, depart home after spending a fulfilling and active two weeks and exploring some of Mongolia's best! Our crew will drive you to the airport for an international flight. We sincerly hope you had an amazing experience and that you gained knowledge and respect for our beautiful land that is Mongolia. We are thankful for your participation and contribution to this adventure, to our families and local partners.
Make an Inquiry
Gobi Mountain Lake Signature Tour




Once you submit your form, we'll get back to you with ideas, questions, options and logistical insight to begin planning the trip of your dreams. It's as simple as that.