TRAVELING WITH NOMADIC FOOD TRADITIONS
THE NOMADS HAS THEIR OWN FOOD TRADITIONS WHICH SUITS PERFECTLY TO ITS LAND AND LIFESTYLE
FOOD PHILOSOPHY OF "GOBI MOUNTAIN LAKE"
Based upon many years sharing the experience of traveling both with foreign citizens and Mongols alike, we combine the knowledge and expertise in order to bring the best foods to our adventures. Choosing the right ingredients for the trip is imperative, and we attach a real pride to meet this requirement for our travelers. The founders of Gobi Mountain Lake LLC brought their energy in order to fulfill your needs while in the Mongolian countryside.
We first studied and compared what foods and meals will be the most adapted for each trip, including both Mongolian traditional recipes and Western meals to meet health and energy for a successful journey. Factors such as the program and activities of the trip, the various locations crossed and temperatures are taken into account to create the most suited menus for everyone. Knowing also every need can be different and specific, we remain flexible to discuss with each of our participants in advance about what to include - or not include - in the diet. We can also adapt the meals of the day according to the conditions we experience and the agreement of the whole group: for example, eating lighter or heavier meals depending on the energy levels or temperatures encountered.
Gobi Mountain Lake established a menu for the activities outdoors, and during the resting times at the Sand Mountain Lodge and camps. A healthy combination of Mongolian and Western delicacies to maximize the taste, bring benefits to the journey such as easy digestion, building strength and energy for the whole day. Most of our travelers prefer vegetarian/plant-based foods as the main source of energy and support during the adventures. To bring the vegetables on location, we do bring a well thought out logistics that will ensure safe and fresh foods at all times. This is guaranteed by modern equipment in the vehicles and on location, including the sealed fridge/canteens, and the support of our team based in Ulaanbaatar.
Now the food is more mixed with European cuisine, which makes the adventure for the western travels an easier experience. The base of food in Mongolia used to be all-around meat and dairy products, but now with new infrastructure and roads being better, we are able to send, receive and use products that were impossible to have in the countryside before. Gobi Mountain Lake has introduced you friendly and experienced cooks, who graduated from Western food expertise, and can also introduce you to the Mongolian traditional food. The concept is made suitable to each travels within Mongolia, both for a practical way and a pleasure to eat and enjoy Natural sites. We prefer certain types of food such as chicken from Orgio brand(Mongolian organic chicken farm) and Mongolian beef meat(pastureland grass-feed beef meat). We do not use pork meat for safety reasons, and also large industrial farms that mass produce and do not reflect a healthy and respectful to the animal conditions.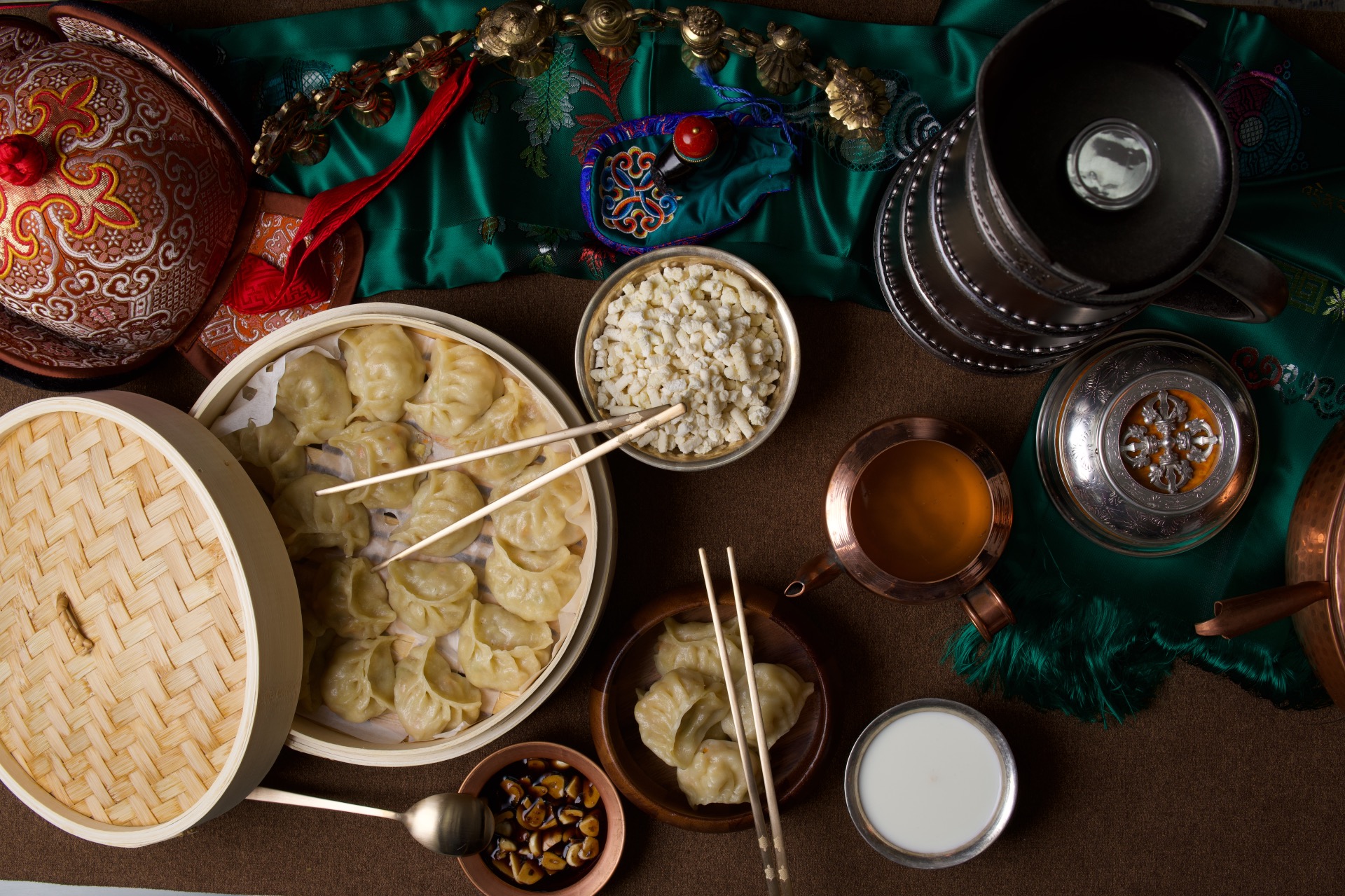 A MODERN TWIST TO MONGOLIAN TRADITIONAL FOOD
Food is the best way to learn about a country and a culture, while others just find consuming delicious things to be pleasurable. We can all follow guidebooks - whether they be Lonely Planet - but when you travel far away in the countrysides of Mongolia, the best things to eat are the modern twisted traditional foods
NOMADIC DEEP FRIED HANDHELD PASTRY "HUUSHUUR"
Originally the Huushuur is one of the main meals which was prepared through major ceremonies like Naadam festival. A traditional Huushuur, or handheld meat pastry is filled with a mixture of ground mutton and onions but there are a few variations that include beef, garlic or peppers, as well as other vegetables. This crescent-shaped pastry is usually deep-fried and its traditionally eaten by hand. We serve also in vegetarian versions of Huushuur made by our plant-based food chef Gantuya "Gana".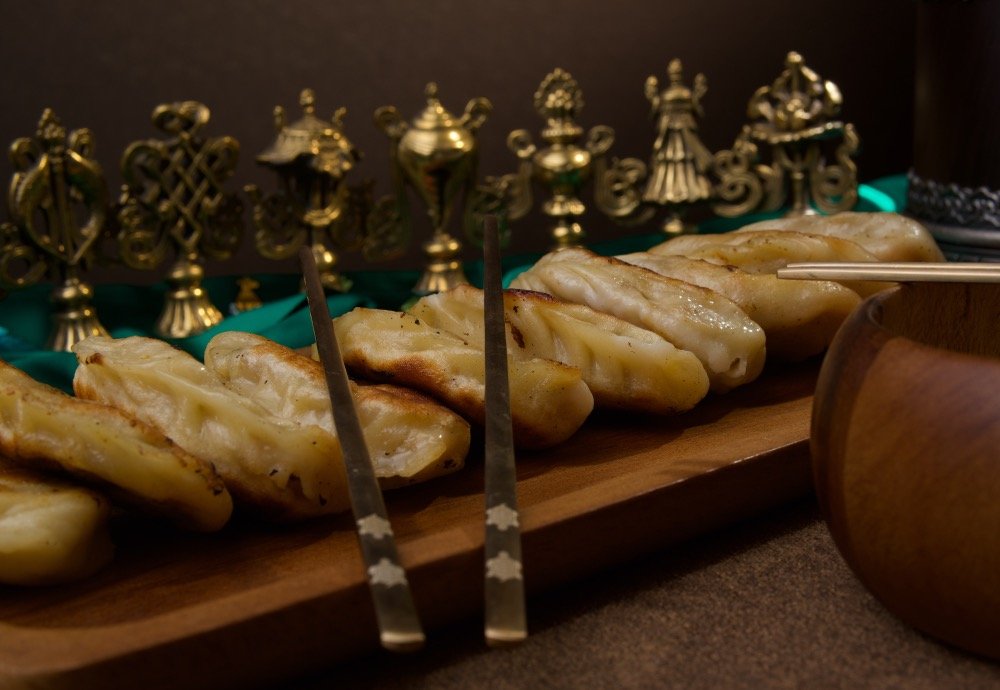 NOMADIC STEAMED DUMPLINGS "BUUZ"
Nothing says Mongolian food like a plate of Buuz, known as steamed Mongolian dumplings. These tasty little meat pockets are served by street vendors and home cooks alike, and they're traditionally made for Mongolian lunar new years celebrations (Tsagaan Sar). Mongolian Buuz is one of the most traditional dishes in Mongolia. They are small steamed dumplings that are filled with typically mutton or beef and also served a vegetarian meal.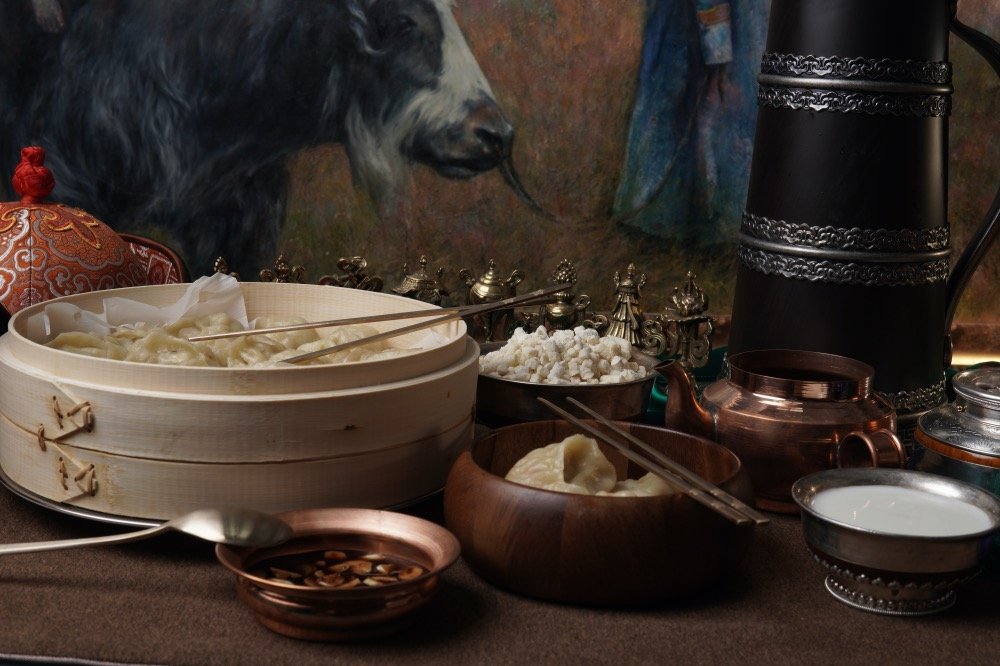 HERDERS NOODLE SOUP "GURILTAI SHOL"
Mongolian Noodle Soup is one of the few Mongolian soups of their culture. Traditionally, Mongolians use sheep instead of beef for their soups. Lots of livestock raised in the country includes wild horses, goats, cows, and sheep. Noodle soup can also be made without meat in a vegan version. For Mongolians, this is classic comfort food and is the perfect soup to eat when you're feeling a bit under the weather. In local slang, it's sometimes referred to as Lapsha. Warm-up your trip with this good-for-you a traditional Mongolian noodle soup.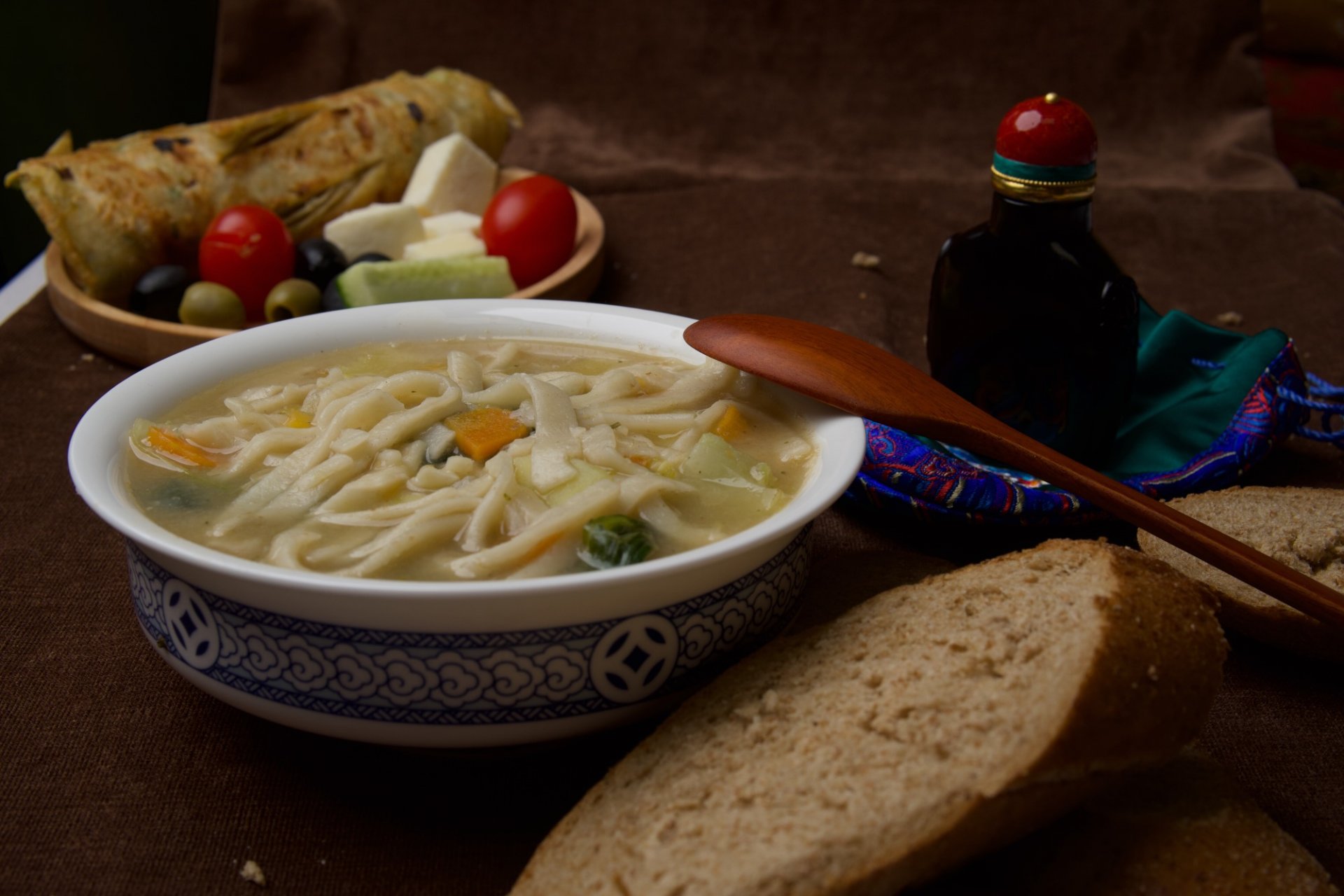 TRADITIONALLY FRIED LAMB RIBS
Tuck into one of many delicious Mongolian dinners to come to one of our western Gobi's hippest restaurants. The secret to mouthwatering lamb ribs is to cook them low and slow. This makes them not only tender but also very flavorful. The lamb chops are marinated twice to give much flavor and taste. These lamb chops have a tangy and sour taste apart from other freshly roasted ingredients.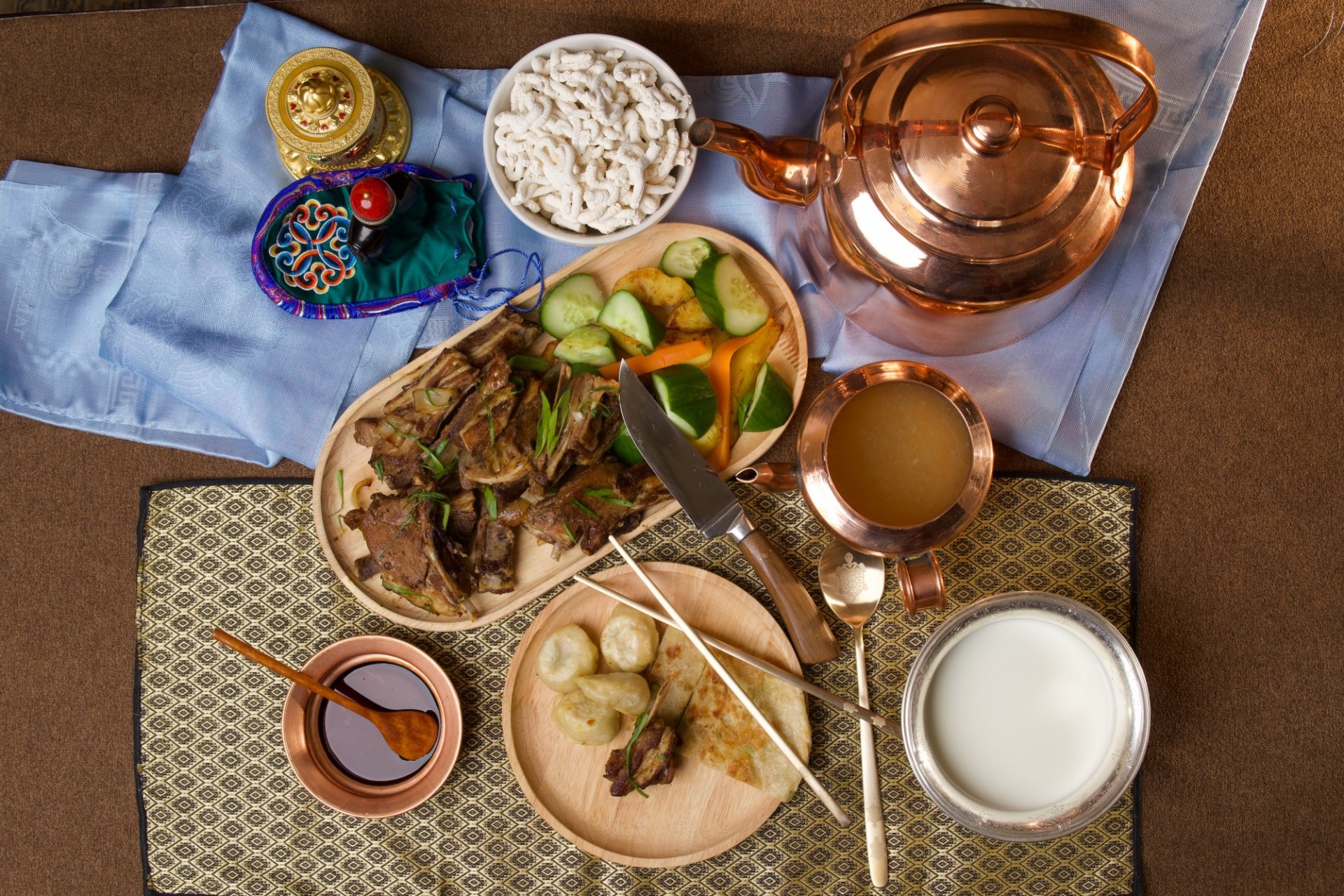 MONGOLIAN AUTHENTIC FRIED NOODLE "TSUIVAN"
Tsuivan is a Mongolian noodle dish that is usually prepared with mutton and various vegetables. The noodles are traditionally made by hand and they're steamed or cooked together with diced meat and vegetables. People sometimes replace mutton with beef, camel, and even horse meat, while the vegetables used in the dish typically include onions, peppers, cabbage, carrots, or potatoes. Tsuivan is enjoyed throughout the country, and it is best served freshly prepared and sprinkled with scallions.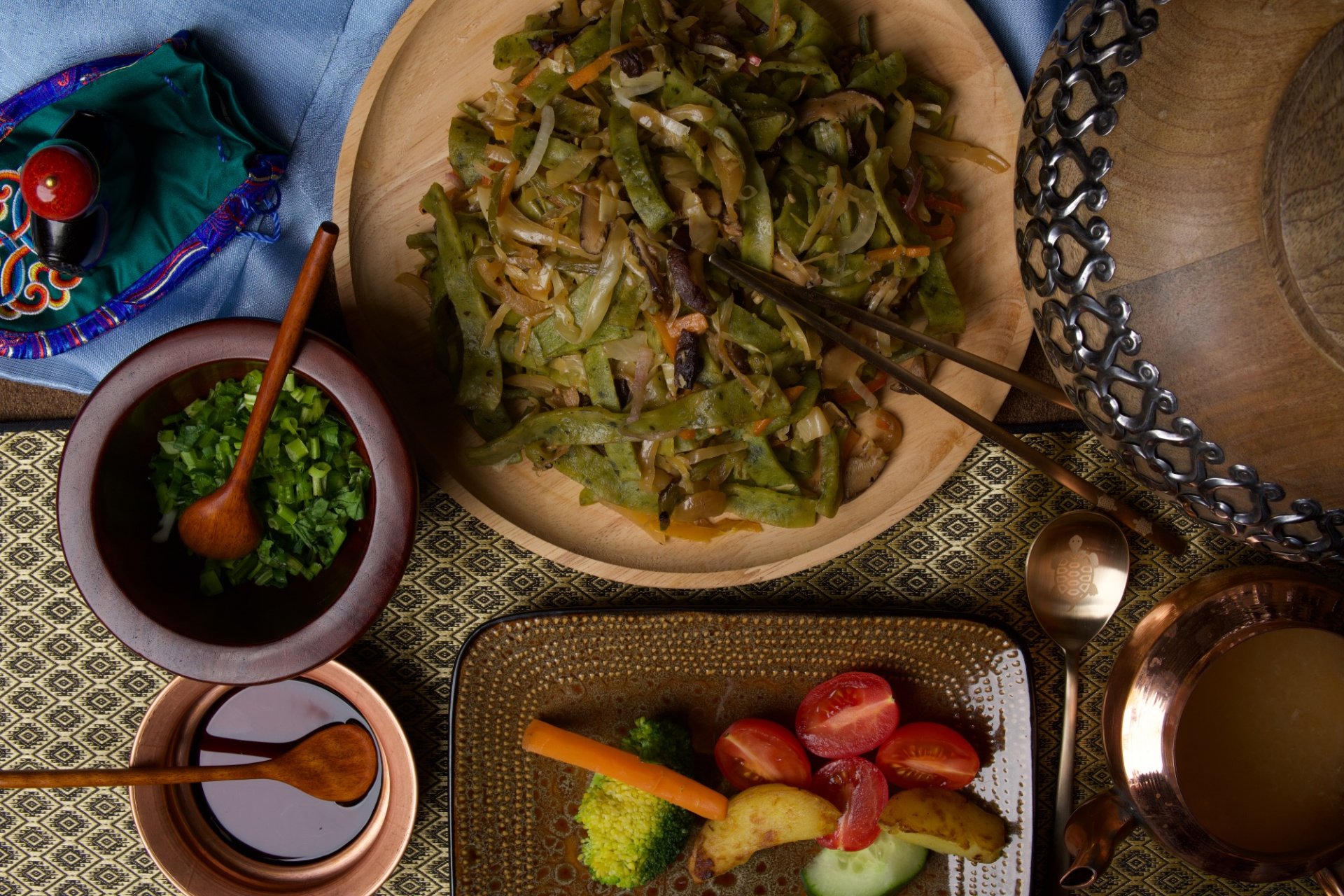 MONGOLIAN TRADITIONAL BREAD "GAMBIR"
Gambir is basically a nomadic type of fried bread, made with just water, flour and sugar. The most common way to eat Gambir is as a sweet pancake, topped with jam for the breakfast or served with soup while dinner.
PAN-FRIED TRADITIONAL DUMPLINGS "BANSH"
Bansh is Mongolian dumplings that are sealed tightly, then boiled in water with a pinch of salt. The dough is typically made with wheat flour, water, and salt, while the filling consists of ground beef or mutton, garlic, onions, herbs, and spices. When the dumplings float to the top, they are done and can be served in milk tea or soups, although they are more commonly served as a pan-fried dish with condiments on the side.
JUICY, CRISPY DUMPLINGS WITH MEAT OR VEGGIES, PAN-FRIED TO GOLDEN PERFECTION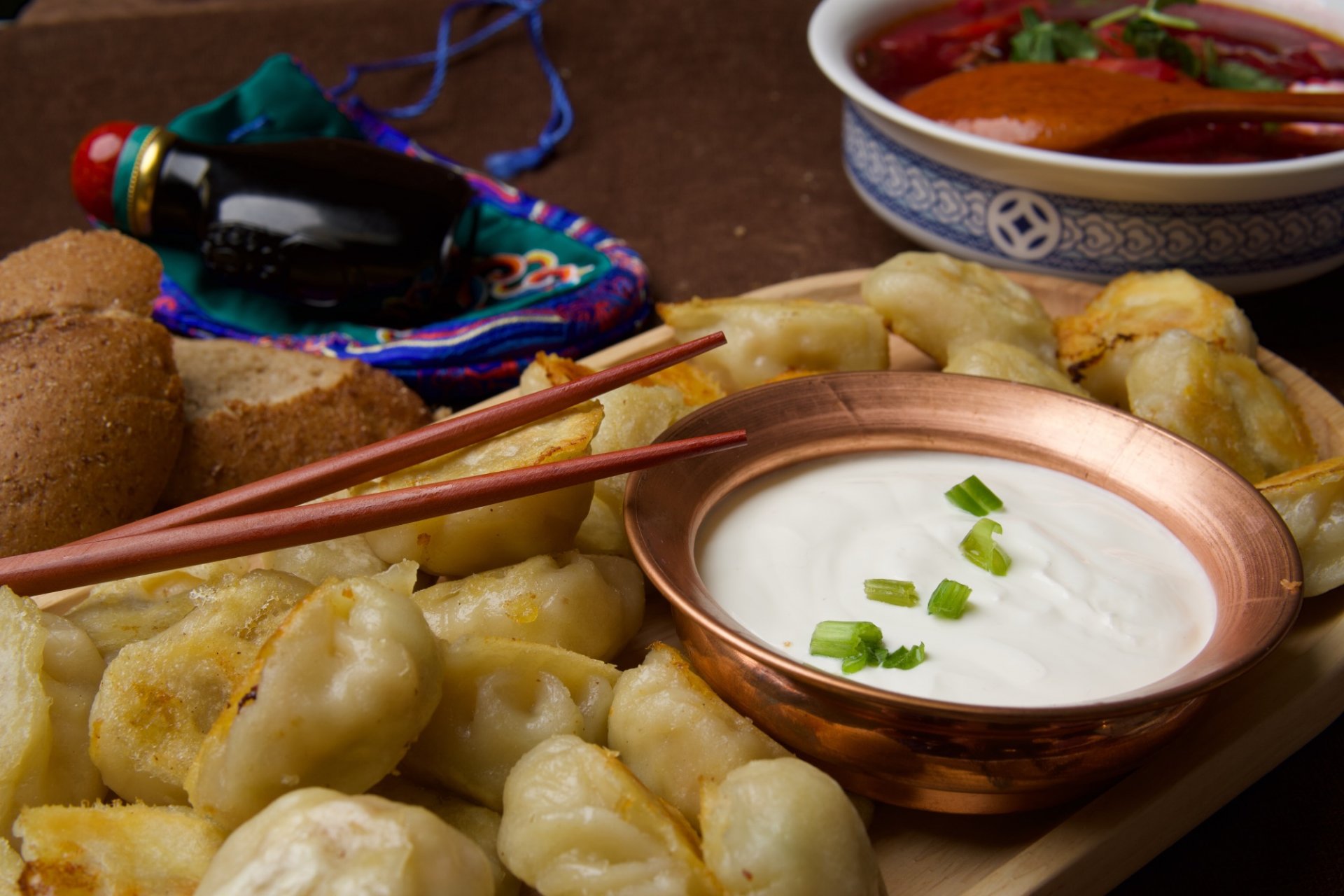 TRADITIONALLY MODERN FOOD IS THE ESSENTIAL OF GREAT TRAVEL